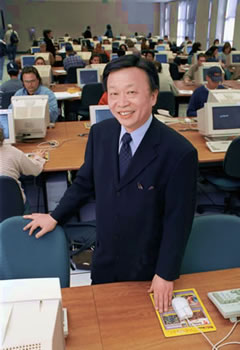 Richard S. Liu
UTSA East Asia Institute receives $2 million gift
By Christi Fish
Public Affairs Specialist
(May 14, 2009)--The University of Texas at San Antonio's commitment to prepare its students for a global workplace and offer them a wider view of the world and its people has been strengthened because of a $2 million gift for the UTSA East Asia Institute from international businessman Richard S. Liu.
Created in 2008, the institute strives to promote appreciation and understanding of East Asian societies and cultures on campus and in the community. With this gift, the institute will broaden UTSA's community impact by offering free public seminars, workshops, lectures, conferences, film festivals and visual art exhibitions hosting individuals from China, Hong Kong, Taiwan, Japan, Korea and other Asian nations.
Additionally, the institute will pursue student exchange and study abroad programming and encourage faculty research collaborations at UTSA and East Asian universities.
"We are very appreciative of Richard Liu's continued and passionate involvement in helping UTSA become a leader in global initiatives," said UTSA President Ricardo Romo. "As we build a premier public research university, the East Asia Institute will foster programs that promise to provide our students and community exceptional programming that will broaden our world view."
Through the Liu's Family Foundation, Liu is UTSA's single largest individual donor. The new donation brings Liu's overall support of UTSA to $6.3 million.
"The vision of the East Asia Institute has grown because of Richard Liu's ideas, vision and philanthropy," said Don Lien, director and assistant vice president of the institute and holder of the Richard S. Liu Distinguished Chair in Business. "The institute's future plans include organizing seminars and workshops for East Asian and U.S. businessmen and entrepreneurs who want to open businesses in San Antonio, the state of Texas or East Asia."
A native of Taiwan, Liu began his business career in 1972 after earning his undergraduate degree in business administration from National Taiwan University. Unable at that time to afford the costs of graduate study abroad, he launched his business career with much of his earliest success occurring in Texas. Today, he is the owner and CEO of Hong Kong-based Superior Leather Ltd., one of the world's leading leather manufacturers.
Liu's previous support has had a tremendous impact on UTSA's ability to promote cultural understanding. In 1998, a significant donation from the Liu's Family Foundation allowed the UTSA College of Business to establish the U.S.-China Business Education Initiative, which supported M.B.A. student exchanges, executive education and research collaborations between UTSA's College of Business and six of the top universities in Beijing and Shanghai.
The College of Business will continue its commitment to East Asian programming and also is developing expanded international programming for UTSA business students and faculty in Asia, Latin America and Europe.
Liu's philanthropy also has allowed UTSA to establish the Liu's Scholar Program and other programs focusing on Asian business and culture.