Leadership UTSA welcomes 2016-17 cohort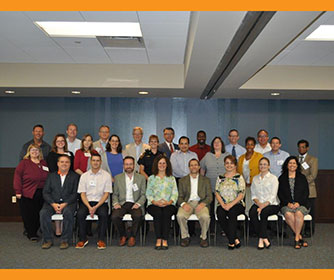 (October 11, 2016) -- Leadership UTSA (LUTSA) recently welcomed its eighth cohort. LUTSA is a leadership development program comprised of faculty and staff from every division of the University. The twenty participants are nominated by their divisional vice president. UTSA executive leadership look for leadership potential within their staff and faculty and nominate those who display potential to be the university's next generation of leaders.
This program has proven to be one of UTSA's most dynamic programs in leadership development and supports the UT System Chancellor's Leadership Initiative. LUTSA has been shared with other universities at conferences and research regarding the success of the program will appear in the 2017 Southern Association of Collegiate Registrars and Admission Officers Journal.
2016-2017 Leadership UTSA cohort:
John Alexander (Architecture)
Kelly Nash (Physics & Astronomy)
Janakiram Seshu (Biology & The Graduate School)
Michael Shufelt Moyer (Counseling)
Emily Bonner (Interdisciplinary Learning and Teaching)
Lupita Carmona  (Interdisciplinary Learning and Teaching)
Lindsay Ratcliffe  (University College)
Brian Cordeau (Institutional Effectiveness)
Kevin Kjosa (OIT Information Services)
Aaron Parks (Institute of Texan Cultures)
Mark Parnin (Facilities)
Denise Moore (Human Resources)
Stephanie Schoenborn (Police)
Barry McKinney  (Student Activities)
Johanna Hunziker (Office of the Registrar)
Nigel Harris (Campus Recreation)
Greg Cortez (Data Transfer Admin. & Strategic Analytics)
Christine Burke (Technology Transfer)
James Weaver ( Institutional Compliance and Risk)
The cohort meets once a month September through April. Each participant is paired with a senior level executive mentor during the spring to further explore leadership styles while attending meetings and discussing the experiences of their mentor. This involvement along with dedicated opportunities to interact with each division's vice president office provides participants with a deeper understanding of the university in which they work. Following a peer selection process, participants have the opportunity to serve on the leadership team the following year for the next LUTSA cohort.
Alumni of the program have achieved success after LUTSA as ACE Fellows, Department Chairs, Deans, Directors and Associate Vice Presidents. In addition to career advancement, participants leave with an increased awareness of their leadership potential and a better understanding of their university and their colleagues within it. It is an invitation to critically think about leadership and one's relationship with leadership long after the 8 monthly sessions have ended.
The 2016-2017 LUTSA Leadership Team:
Amy Chanmugam (cohort 7)
John DeLaHunt (cohort 6)
Donovan Fogt (cohort 6)
Cié Gee (cohort 2)
Dianne Hengst (cohort 6)
Jill Hernandez (cohort 6)
Ben Garcia (cohort 7)
Hillary Klingman (cohort 7)
Carol Gonzales (cohort 7)
John Frederick
Andra Kiser
-- Ginnifer Cié Gee
-------------------------------
For more information, visit Leadership UTSA.
Connect with UTSA online at Facebook, Twitter, YouTube and Instagram.