UTSA affirms commitment to addressing sexual assault and misconduct involving college students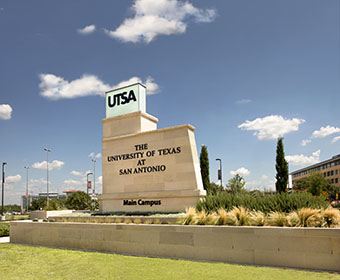 (March 24, 2017) -- As colleges and universities across the United States grapple with the issue of sexual assault and misconduct on campus, The University of Texas at San Antonio (UTSA) is addressing the matter head on.
UTSA first recognized more than a decade ago that intimate and interpersonal violence was a national issue that warranted a proactive and multi-faceted approach to ensure the well being of students. As a result, it became one of the first Texas universities to incorporate sexual assault reporting and investigations into its Title IX policies and to develop a comprehensive series of education, training and awareness initiatives aimed at decreasing the prevalence of sexual misconduct and sexual assault on and off campus. The university currently provides more than 40 initiatives and educational events for faculty, staff and students.
Most recently, UTSA collaborated with the University of Texas System in the first in a series of student surveys exploring the prevalence of sexual harassment, stalking, dating violence, domestic violence, and unwanted sexual contact on UT System campuses. The survey, Cultivating Learning and Safe Environments (CLASE), was released today.
"Every student at every university deserves a safe environment where they can learn, discover and grow," said UTSA Interim President Pedro Reyes. "UTSA has a long-standing commitment to confronting this profound issue and we will continue to use every resource available to us to ensure the well-being of our students."
CULTIVATING LEARNING AND SAFE ENVIRONMENTS
The CLASE report is the most comprehensive survey of sexual assault and misconduct ever undertaken by an institution of higher education. Thirteen of the UT System's 14 institutions participated in the survey of students' personal experiences, perceptions and awareness of sexual misconduct. More than 28,000 students from UT System institutions responded to the survey, including 3,385 UTSA students.
Students were asked to self-report their experiences in five key areas and may have responded in more than one category.
"As unacceptable as sexual assault and sexual harassment are, it is equally unacceptable to be silent on these issues. We intend to shed light on sexual misconduct and take meaningful steps to protect our students on and off campus," said Reyes. "There will be zero tolerance at UTSA."
In response to the findings of the CLASE survey, Reyes has called for the immediate formation of a campus task force, comprised of faculty, staff and students, to assess the effectiveness of the university's current 40-plus programs, and to identify the need for new programs or approaches to reduce incidence rates and increase reporting rates. Reyes has also charged the task force with ensuring that initiatives are integrated into daily campus life to reinforce appropriate behaviors and raise awareness of programs and support services offered to victims.
UTSA has already identified additional priority and long-term action items that complement existing initiatives and further build a comprehensive array of training, education and awareness resources.
Because many students who experience sexual harassment or sexual assault do not seek help and the support they need to recover, UTSA is developing counseling programs designed to eliminate the stigma associated with victimization and to encourage reporting.
To address sexual misconduct and sexual assault among the university's LGBTQ students, UTSA has implemented the ALLY anti-discrimination program, which trains faculty, staff and students to serve as advocates for LGBTQ students in creating safe and welcoming environments.
Collaborating with the UTSA Office of International Programs, the university is developing Title IX and Campus SaVE training programs in multiple languages to aid in international student education and awareness.
Additionally, the university will participate in a second CLASE survey, conducted in conjunction with the UT System, in 2018.
BACKGROUND ON UTSA INITIATIVES AND PROGRAMS
UTSA began providing training programs to faculty, staff and students on sexual harassment in 2006. Since then, more than 40 unique educational initiatives and large-scale events have been developed to raise awareness of and prevent sexual misconduct and sexual assault, encourage greater reporting of incidents and teach students how alcohol and drugs can impair decision-making.
The development of these initiatives has been further fueled by a series of proactive climate studies that began in 2008. UTSA now conducts student surveys annually to understand the scope and prevalence of intimate and interpersonal violence and students' perception of their safety.
In April 2011, the U.S. Department of Education's Office of Civil Rights published a "Dear Colleague" letter requiring colleges and universities across the nation to include sexual assault in their Title IX policies and procedures. UTSA promptly responded by developing employee training to address the new requirement, and by May 2012, had conducted training for its police department officers and staff, student affairs staff, tenured and tenure-track faculty members, and all students designated for the purposes of reporting as "responsible employees."
By September 2012, all remaining UTSA offices were fully integrated to address and support Title IX sexual assault reports.
Since that time, UTSA has added Title IX training to its New Employee Orientation and developed online Campus Sexual Violence Elimination Act (SaVE) training for all faculty and staff as part of its annual compliance requirement. More recently, in 2015, UTSA became the first UT System institution to provide online sexual assault education training mandated by Texas HB 699 to incoming freshmen and transfer students.
Today, UTSA students, faculty and staff members regularly collaborate to offer and evaluate prevention and deterrence programs, and to promote the importance of working together as a community to prevent crime. One of the university's largest student initiatives is Sex Signals, a sexual assault prevention program that helps students understand the difference between coercion and consent. Other initiatives include Sexual Assault Awareness Month and Call to Action Day, which are offered each April, and Take Back the Night, offered each fall.
More information about UTSA's education, training and awareness programs is available at www.utsa.edu/safecampus.
-------------------------------
Read President Reyes' message to students.
Read President Reyes' message to faculty and staff.