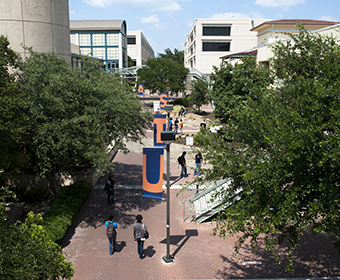 (July 6, 2017) -- Four UTSA faculty members have been selected to receive the 2017 Regents' Outstanding Teaching Award from The University of Texas System. They are among 56 educators from UT System's 14 academic and health institutions being honored with this prestigious annual award.
The UTSA recipients are:
Hector R. Aguilar, lecturer III, Department of Chemistry
Ian Caine, assistant professor, Department of Architecture
Jill Fleuriet, associate professor, Department of Anthropology
Patricia Sánchez, associate professor, Department of Bicultural-Bilingual Studies
Each of the honorees will receive an unrestricted check for $25,000, and will be recognized for their achievement at an Aug. 23 teaching forum and dinner in Austin.
The Regents' Outstanding Teaching Award (ROTA) program was established in 2008 to recognize faculty who demonstrate a history and promising future of sustained excellence in undergraduate teaching. Including this year's recipients, 45 UTSA faculty members have received the award. A list of past recipients is available on the UTSA Faculty Awards website.
"UTSA's high caliber faculty is what one would expect at a top public university," said Pedro Reyes, UTSA president ad interim. "To have four of our educators receive this level of recognition demonstrates a shared commitment to providing students the very best in innovative instruction."
ROTA recipients are vetted at their own institutions before advancing to compete at the system level. Then, candidates from each institution are evaluated by a selection committee of distinguished educators from both in and outside the UT System.
In their evaluations of a candidate's teaching performance, members of the selection committee consider a range of activities and criteria including classroom expertise, curricula quality, innovative course development and student learning outcomes.
Because of the depth and breadth of educators across the UT System, the awards are among the nation's most competitive.
This fall, Aguilar, Caine, Fleuriet and Sanchez will become the newest members of the UTSA Academy for Distinguished Teaching Scholars, a group comprised of ROTA winners that provides institutional leadership and guidance for excellent teaching at UTSA.