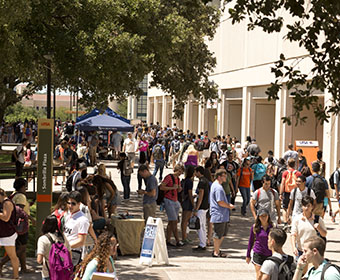 (Aug. 1, 2017) -- In a new study, the Brookings Institution ranked The University of Texas at San Antonio (UTSA) among the nation's top 10 public universities for promoting research and enabling social mobility.
To develop the ranking, the Brookings Institution first identified 342 public universities that promote learning and discovery through research. Then it identified institutions that promote social mobility by serving large populations of low-income students. The published ranking lists the institutions that excel in both areas.
While nearly 200 U.S. universities performed well in either social mobility or research, UTSA was among just 70 minority-serving public research universities that performed favorably in both categories.
"This Brookings Institution study validates what so many Texans and their families already know -- that UTSA offers access to excellence and opportunities for research and discovery for students of all backgrounds," said Interim UTSA President Pedro Reyes.
UTSA is a Hispanic-Serving Institution with a diverse student population. More than 60 percent of UTSA students are from underrepresented groups, and nearly half of the university's undergraduates will be the first generation in their families to earn a bachelor's degree. Nearly 70 percent of UTSA's students are eligible to receive financial aid, including grants, scholarships, loans and work-study jobs.
At the same time, UTSA has a thriving research culture. The university offers top-tier academic and research programs in five major areas: Advanced Materials, Cloud, Cyber, Computing and Analytics, Integrated Biomedicine, Social and Educational Transformation, and Sustainable Communities and Critical Infrastructure. Additionally, nearly two dozen research centers and institutes are based at UTSA, which also houses a technology and incubator to nurture start-up companies.
UTSA was one of seven Texas universities recognized in the Brooking Institution's research and social mobility study. They are:
The Brookings Institution is a nonprofit public policy organization that conducts in-depth research that leads to new ideas for solving problems facing society at the local, national and global level.