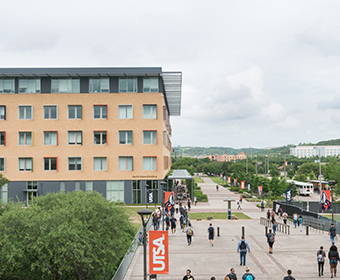 (Nov. 7, 2017) -- As new details emerge about the Sutherland Springs tragedy that occurred on Sunday, members of Roadrunner Nation may find themselves in need of counseling and support services. UTSA leaders are committed to helping students, faculty and staff members impacted during this difficult time.
Students who need emotional support should contact the staff at Counseling Services. Its offices are located at the Recreation Wellness Center on the Main Campus (RWC 1.810) and the Frio Street Building (FS 4.556) at the Downtown Campus. Counselors are also available 24-hours-a-day, 7-days-a-week by calling 210-458-4140. 
Additionally, a support group is planned for students feeling the impact of this tragedy. The group will meet Tuesday, Nov. 7, and Tuesday, Nov. 14, from 4 p.m. to 6 p.m. at the Recreation Wellness Center (RWC 1.806). 
Students who need additional support should contact Student Ombudsperson Carol Gonzalez at 210-458-4040 or carol.gonzalez@utsa.edu.
UTSA faculty and staff who have been impacted by the Sutherland Springs tragedy should contact Deer Oaks EAP Services for assistance. Deer Oaks counselors are available by appointment at the Main Campus, Mondays through Fridays, from 9 a.m. to 5 p.m. and at the Downtown Campus on Thursdays from 1 to 5 p.m.
Faculty and staff should contact Deer Oaks at 1-866-327-2400 and ask for the on-campus counselor to schedule an appointment. Counselors are also available throughout the United States to assist UTSA faculty and staff located off campus.