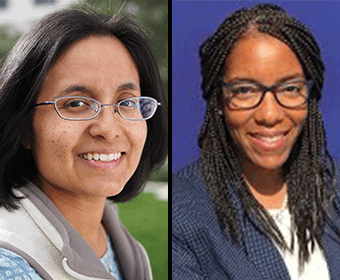 (Feb. 9, 2018) -- Two University of Texas at San Antonio (UTSA) faculty members, four UTSA alumni and an undergraduate have been honored for their excellence in academics and research, and for their community contributions.
Marina Suarez, UTSA associate professor of geology, and Larissa Mercado-López '03, '08, '11, who earned three degrees from the university, have been named 2018 Emerging Scholars by Diverse: Issues in Higher Education. They are among just 15 U.S. scholars under the age of 40 to be recognized by the publication for academic and research excellence.
Suarez, a native San Antonian, has been passionate about dinosaurs since she was a child. The UTSA faculty member is currently conducting research in paleoclimatology with the support of a $478,000 grant through a National Science Foundation Faculty Early Career Development Award. At UTSA, she teaches courses in stable isotope geochemistry, earth history and paleontology.
Notably, in 2011, a new species of dinosaur, Geminiraptor suarezarum, was named after Suarez and her twin sister/fellow paleontologist, Celina Suarez, after the sisters discovered the dinosaur at a site in Utah. The animal lived 100 million years ago during the Cretaceous period, a critical time in Earth's history.
Diverse: Issues in Higher Education emerging scholar Mercado-López earned her bachelor of arts in Mexican American studies from UTSA in 2003, her master's in English literature in 2008 and her Ph.D. in English literature from UTSA in 2011. Today, the UTSA alumna is an associate professor of women's studies at California State University, Fresno. She examines the visual and environmental notions of fitness, investigating ways popular fitness conflicts with working-class Latinas' constructions of womanhood. Over her career, she has sought inspiration for her research from her personal experience as a mother attending college.
Diverse: Issues in Higher Education received hundreds of nominations in this 17th year of recognizing minority scholars under 40 years old.
Additionally, a UTSA faculty member, four alumni and an undergraduate are among 2018's selection of San Antonio Business Journal's 40 Under 40, which honors young and ambitious rising stars in San Antonio who are leading in their industries while giving back to the community. A record-setting 250 nominations were submitted for this year's 40 Under 40 class, which will be honored at an event on February 22.
Kelly Nash '09, associate professor of physics, earned her Ph.D. in physics from UTSA, becoming one of fewer than 100 female, African-American physicists in the U.S. with a doctoral degree. Last year, Nash received a $65,000 grant from the National Science Foundation to develop a nanomaterial that can do the work of a water treatment plant.
UTSA alumni named among the 40 under 40 include Andrew Casillas '07, director of contracting and legal compliance at InGenesis Inc, Joshua Cude '02, CEO of Cude Engineers, Ryan Parker '05, San Antonio market CEO of BBVA Compass, and Michael Sindon '07, '10, assistant director of the City of San Antonio's economic development department.
Undergraduate communications major Emma Faye Rudkin, CEO of Aid the Silent, also made the list.
"Congratulations to all our faculty, alumni and student honorees," said Mauli Agrawal, interim provost and vice president for academic affairs. "These recognitions are a testament to the strength and breadth of UTSA community of scholars and how Roadrunners in diverse industries and disciplines are effecting change for the betterment of our world."