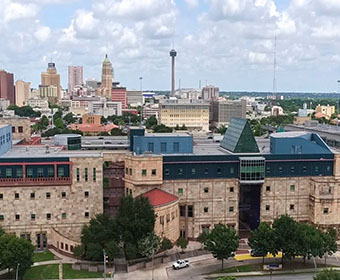 (Feb. 27, 2018) -- The University of Texas at San Antonio (UTSA) College of Public Policy and the League of Women Voters are partnering to host the Judicial Candidate Debate tonight from 6 p.m. – 7:30 p.m. in the Buena Vista Street Building Aula Canaria (BVB 1.328). Candidates vying to become the next Criminal District Court judge will discuss their positions and allow for questions from the audience.
>>Watch a livestream of the debate on NOWCast SA.

Candidates who have confirmed their attendance include:
Karl Alexander, Republican Criminal 187th
Joe Contreras, Republican Criminal 187th
Jan Ischy-Prins, Republican Criminal 187th
Veronica Legarreta, Republican Criminal 187th
Virginia Maurer, Republican Criminal 187th
Todd McCray, Republican Criminal 226th
Joey Perez, Democrat Criminal 226th
Jennifer Peña, Democrat Criminal 290th 
David Martin, Republican Criminal 226th
Kristen Mulliner, Republican Criminal 226th
Libby Wiedermann, Republican Criminal 226th
"It is important for the UTSA College of Public Policy to host this event, since public policy intersects with fundamental issues that judges make decisions about everyday," said Francine Romero, UTSA associate professor and associate dean of the College of Public Policy. "We hope citizens and students will take this opportunity to get to know the candidates and their positions in order to cast an informed vote prior at the joint primary election."
"The judicial elections are so important to how we live our everyday lives that we want voters to have as much information about the candidates as possible," said Phyllis Ingram, director of voter services for the League of Women Voters.
Free event parking will be available in unmarked spaces of lot D-3, beneath IH-35.
The primary election is Tuesday, March 6. Early voting is going on now through March 2. The UTSA Main Campus is an early voting site. Registered voters will narrow down on party candidates who will represent each party in the November general election. Check voter registration status and see sample ballots.