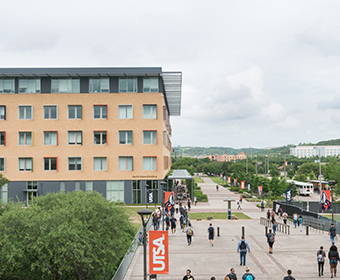 (March 5, 2018) -- The Provost's Diversity and Inclusion Advisory Council (DIAC) today released the results of the UTSA Diversity Survey, which was conducted late last year by the Office of Institutional Research. Of the university's 3,900 faculty and staff who were surveyed, more than half responded.
The survey results dashboard, executive summary and full report are posted on the Office of the Provost website.
"The reason for administering the survey is quite simple: UTSA must strive to be exemplary in providing a campus climate where underserved and underrepresented students can thrive," said President Taylor Eighmy. "We must prepare every one of our graduates to be world-ready and fully equipped to lead in a diverse society. The first step is understanding and owning where we are succeeding and where we have more work to do, and the survey results will help us to do just that."
The DIAC will hold forums on both the Main Campus and Downtown Campus this month to share and further explain the results of the survey and to offer the opportunity for faculty and staff to provide feedback.
Forum schedule:
Tuesday, March 6, 2 p.m. – 3 p.m., H-E-B Student Union, Travis Room, (HSU 2.202), Main Campus
Wednesday, March 21, 1 p.m. – 2 p.m., Durango Building, La Villita Room (DB 1.116), Downtown Campus
Monday, March 26, 1 p.m. – 2 p.m., H-E-B Student Union, Bexar Room (HSU 1.102), Main Campus
"We believe the results of this survey will help UTSA start a dialogue regarding diversity and inclusion and will serve as a baseline from which we can measure change," said Jesse T. Zapata, senior vice provost for academic and faculty support and co-chair of the DIAC. "In partnership with President Eighmy and many others, we will continue this important work on behalf and for the benefit of our entire Roadrunner community."
A similar survey tool will be administered to UTSA students this spring, in collaboration with the Student Government Association.