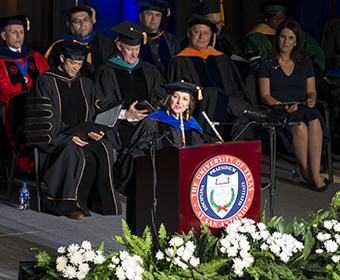 (March 21, 2018) -- UTSA President Taylor Eighmy received a very special gift this week. To commemorate his inauguration as the university's sixth president, Carmen Tafolla, the 2015-2016 Texas Poet Laureate and a professor in the UTSA Department of Bicultural-Bilingual Studies, presented him with "Estrellas of Possibility", the Inaugural Poem. Tafolla's poem celebrates Eighmy's vision to make UTSA a flourishing community that drives prosperity. 
"I was intrigued and enthused that we had a new President who, although academically trained in the sciences, showed great appreciation of the humanities, and stated as a high priority the involvement of our beautiful, multicultural, but often-neglected community," Tafolla said. "When I heard the stories about he and his wife courting each other via the poetry of Pablo Neruda, the idea was born for 'Estrellas of Possibility.'"


Estrellas of Possibility
By Carmen Tafolla 


He comes to this city,
to this young dreamer of a university,
sees in its First-Generation face
the University of El Futuro.
His Vision draws on blueprints which sing
that Possibilities surround us
like exploding stars
sparkling with creative power,
con fuerza creativa.
Who is this Poet-Engine-Ear,
Academic-Vision-Builder
saying – We must reach with all our dawns
with the muscle of hope
with the eyes of possibility
until we have become una comunidad
unida y floreciendo, blooming spaces
of vibrant growth, of undiminished dreams
A Neruda of the sciences
heart of a poet, mind of an engineer
his focus is on building
bridges, bonds, pathways
El futuro es nuestro.
Juntos. Unidos. Todos.
Our river flows,
a billion stubborn drops bonded
to each other, unstoppable.
A resilient pueblo canta su conección:
Reciba nuestro abrazo, Presidente,
y bienvenidos to our sabroso skyline
sparkling with hope
and with the now visible
genesis-inspiring exploding stars.

Tafolla adds President Eighmy's interest in reaching both the English-speaking and the Spanish-speaking communities freed her to write the inaugural poem in her native code-switching Tex-Mex, to solidify his connection with both language communities.  
With UTSA advancing as San Antonio's university of the future, Tafolla also wrote about the connection between the city and the stars. 
"The images of exploding stars, filled with energy and possibility drove me, and the distinct image of a billion drops of water bonded together and unstoppable touched both on his love of rivers, and of our city's millennia-old heart, the San Antonio River," said Tafolla.