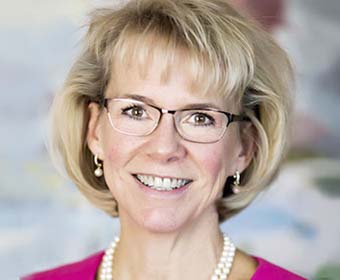 (April 18, 2018) -- University of Texas at San Antonio (UTSA) President Taylor Eighmy today announced the selection of Kimberly Andrews Espy, senior vice president for research at the University of Arizona (UA), as UTSA's next Provost and Vice President for Academic Affairs.
With nearly 25 years of experience in higher education, Espy has earned a national reputation for helping institutions achieve transformative results in student success, academics and research, faculty and staff development and university-community collaborations. Building on a long-standing commitment to fostering diversity and inclusion in higher education, Espy most recently co-coordinated efforts that earned UA its designation as a Hispanic Serving Institution from the U.S. Department of Education.
"Dr. Espy is an esteemed scholar and administrator with proven leadership at large, Carnegie R1 (research intensive) and Association of American Universities institutions," said Eighmy. "She has an unparalleled commitment to students, faculty and the role that research universities play in solving society's grand challenges. Her breadth of experiences and her body of work closely aligns with our path forward."
As UA's senior vice president for research and chief research officer, Espy's portfolio includes the university's interdisciplinary research centers and institutes, central core research facilities and four university museums. She oversees UA's research development services, corporate engagement services, global research alliances, and research administration and compliance services. She has also helped implement a transparent, decentralized budget model at UA, a valuable experience as UTSA prepares to implement its own new budget model this coming year.
In her UA role, Espy has broadened faculty expertise and supported student success by partnering with the Provost to develop and implement a faculty-centered, campus-wide cluster hiring initiative that yielded 28 new faculty in core academic areas. Additionally, she collaborated with UA deans to develop and implement an interdisciplinary strategic hiring program that resulted in 20 new faculty to lead and connect collaborative academic endeavors.
She also led the creation of new services and programs to support faculty and to expand and deepen strategic external research partnerships with businesses and non-profits around the globe. To promote university-business engagement and enhance student workforce preparation, for example, she initiated restructuring of internal funding mechanisms to advance faculty-mentored, undergraduate/graduate team "classroom to career" experiential learning opportunities to support UA's 100% Engagement initiative.
"UTSA is a thriving discovery enterprise in San Antonio, one of the nation's greatest cities, and it is poised to become a model for multicultural research universities of the future," said Espy. "UTSA is an institution on the move, guided by a strong vision that student success and academic excellence go hand in hand. I am eager to help drive that effort to advance the university and the San Antonio community, create opportunities for our students and support social and economic prosperity here."
Espy started her academic career at Southern Illinois University, an institution focused on serving first-generation students, where she employed active learning pedagogies in teaching undergraduate, graduate and first-year medical students, and served as the founding director of the Center for Integrated Research in Cognitive and Neural Sciences. She then served as the University of Nebraska-Lincoln's associate vice chancellor for research, from 2005-2011, and as acting dean of Graduate Studies, from 2010-2011, where she facilitated the ADVANCE initiative to increase the number of female and other underrepresented STEM faculty.
In 2011, Espy joined the University of Oregon (UO), where she served as vice president for research and innovation and as dean of the Graduate School until 2014. During her tenure, she expanded industry-focused master's programs and fellowships and established a regional accelerator and innovation network to support external engagement with industry, community agencies, governmental and non-governmental organizations. To prepare students for the global workforce, Espy established a donor funded student entrepreneurship experience culminating in a "Shark Tank"-like competition and initiated the Undergraduate Research Opportunity Program.
When Espy joins UTSA this summer, she will be returning to Texas. She earned her bachelor's degree in psychology at Rice University and her master's and doctoral degrees in psychology and clinical neuropsychology, respectively, at the University of Houston. Additionally, she completed a clinical pediatric psychology internship at the University of Louisville School of Medicine and Bingham Child Guidance Center and a post-doctoral fellowship at the University of Arizona College of Medicine. Espy is a fellow of the American Association for the Advancement of Science and the American Psychological Association.
A translational clinical neuroscientist, Espy has earned more than $18 million in funding to study how young children control their attention to promote learning, academic and health outcomes, and how these skills are impacted by medical, environmental or social factors. She has authored more than 90 refereed journal articles, given numerous keynote, invited and scientific presentations nationally and across the globe, and chaired a National Institutes of Health study section. She has mentored many undergraduate, master's, doctoral and medical students, and junior faculty. Her past trainees currently hold positions at national and international institutions including the NIH, Cambridge University, Brown University, Johns Hopkins University Medical School and the University of Edinburgh.
As UTSA's chief academic officer, Espy will oversee nine colleges, the Graduate School and libraries in addition to other offices that support students, faculty and institutional success.
Additionally, she will help lead the rollout of several major initiatives for UTSA, including the reimagining of the Downtown Campus, the development of new academic programs and institutes, the university's reaccreditation and the implementation of a new budget model.
"I know Dr. Espy shares my passion and energy for the potential of UTSA as an exemplary urban serving, Hispanic-thriving discovery enterprise, and I am delighted to have her join our senior leadership team," said Eighmy.
The search for UTSA's next Provost launched in December with the appointment of a broadly representative search committee chaired by Margo DelliCarpini, dean of the UTSA College of Education and Human Development.
Espy begins her new role at UTSA on June 4. She replaces Interim Provost and Vice President for Academic Affairs Mauli Agrawal, who will leave UTSA to become the chancellor of the University of Missouri-Kansas City.