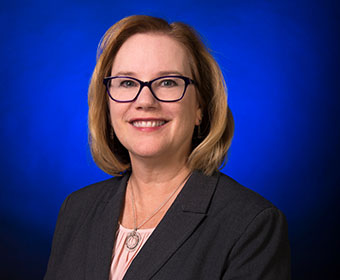 (May 3, 2018) -- UTSA Vice President for Business Affairs Kathryn Funk-Baxter '88 has announced her retirement, effective September 30, 2018.
Funk-Baxter joined UTSA in 2015, drawing on more than 21 years of financial leadership experience in higher education. As Vice President for Business Affairs, she has overseen more than 31 UTSA departments including business affairs administration, budgeting and financial planning, business contracts, financial affairs, facilities, human resources, public safety, purchasing, real estate and business information services.
Most recently, Funk-Baxter has led three initiatives associated with the development of a new university budget strategy that advances President Taylor Eighmy's vision for UTSA as an urban serving, nationally recognized research university. That work included development of a new budget model to create long-term fiscal health and sustainability at UTSA. Funk-Baxter will initiate the piloting of the new budget model for FY 2019 and her successor will fully implement it in FY 2020. 
"I am deeply grateful to Kathy for her leadership in developing and implementing strategies to put UTSA on a fiscally sound, long-term trajectory," said Eighmy. "Kathy shares my sense of urgency in developing a budget model that will propel UTSA forward, and her commitment to remaining with UTSA as we launch its pilot phase speaks to her tremendous dedication to the university and the success of our students." 
"As a UTSA alumna, one of the highlights of my professional career was returning to the university in a leadership position," said Funk-Baxter, who received her Master of Business Administration degree from UTSA. "It is so exciting to see the tremendous impact UTSA is having on our students, our city and the world, and I am so fortunate to have worked alongside a tremendously talented group of leaders and colleagues."
President Eighmy has appointed incoming Provost and Vice President for Academic Affairs Kimberly Espy to chair a search committee and launch a national search for the next vice president for business affairs. The selection of committee members and a search firm will commence as soon as possible. Additional information about the process will be made available via a website in the coming weeks.