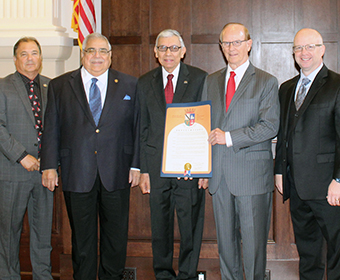 (June 8, 2018) -- Bexar County Commissioners presented Jude Valdez, UTSA vice president for community services, a Proclamation recently to recognize his 40 years of service with UTSA. Valdez, who is set to retire on June 30, has been instrumental in leading the university's community engagement mission.
Valdez joined UTSA in 1979 as the executive director for the College of Business. In that role, he established, administered and secured funding for the Business Development Center, the Small Business Development Center, the Center for Entrepreneurial Development and the Trade Adjustment Assistance Center. In 1979, he combined those initiatives and became the founding director for the UTSA Institute for Economic Development.
In 1986, Valdez became the associate dean of the College of Business and an assistant to the president. He led executive and professional development as well as economic development programs for the university while moving more broadly into external and community relations.
In 1993, Valdez was named vice president for Community Services, a role he continues to serve today. In that role, he leads administrative matters at the Downtown Campus and oversees the university's community engagement programs, including the Bank of America Child and Adolescent Policy Research Institute, the Center for Civic Engagement, the Institute for Economic Development, the Institute of Texan Cultures, the Institute for P-20 Initiatives, the Office of Extended Education/Special Events and the UTSA Mexico Center.
When presenting Valdez with the Proclamation, Judge Wolff recalled the work he and Valdez did in identifying and securing a site for the Downtown Campus. The entire story is told in the book "Mayor," which Wolff authored.
Most recently, Valdez led the advancement of the strategic plan for the Downtown Campus in alignment with the vision to advance UTSA as San Antonio's university for the world.
While at UTSA, Valdez received the Texas Association of Chicanos in Higher Education 2011 Meritorious Service Award, which recognizes commitment and service in the improvement of education and employment opportunities for Hispanics in higher education. He is also a senior lecturer in the UTSA Department of Management, a position he's held since 1980.