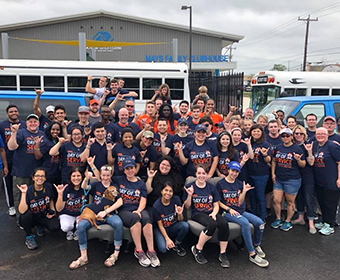 (Aug. 28, 2018) -- It's official, 'Runners. School is back in session. The UTSA experience is so much more than going to class, the lab and studying. It's also time for football games, friends and fun. 
A new school year means new experiences, and there's no better way to begin than by getting involved. Whether you're a freshman new to campus or a senior preparing to graduate, UTSA has something for every interest. Here are just a few of the ways you can get involved at UTSA:
Enhance your UTSA experience
The Involvement Fair is a great place to start to learn about the more than 350 student organizations at UTSA. This year, This year's Involvement Fair on the Main Campus is from 10 a.m. to 2 p.m. on Tuesday, August 28 in the Sombrilla Plaza.  The Downtown Campus will host a combined Involvement Fair and Volunteer Fair from 10 a.m. to 2 p.m. on Thursday, August 30 in the Buena Vista Street Building Assembly Room (BVB 1.338) and hallway area.
RowdyLink has all the answers.
In class and missed the Involvement Fair? No worries. RowdyLink is UTSA's directory for student organizations. Use it to search through organizations based on keywords. Each student organization has a page that includes social media and email contact information. RowdyLink also has a calendar of upcoming events.  Representatives of the groups are ready and willing to speak with you.
Check out UTSA fraternities and sororities
The fraternity and sorority experience at UTSA connects students with shared interests and values. At the start of the semester, you can find Fraternity and Sorority Life events everywhere. Each organization hosts events to meet new runners. They're typically free … and who isn't looking for some free fun?
If a student organization isn't for you, there are other ways to experience campus life.
The Roost is a game room located on the second floor of the H-E-B Student Union. Bring your student ID and you'll have access to hundreds of video games and consoles, plus a pool table, a ping pong table and other fun activities to help you chill with your fellow 'Runners. Hop in for a game between classes or sign up for a tournament or other event.  It is a great way to meet friendly competition enthusiasts.
Students at the Downtown Campus can also enjoy a recreation room, located on the second floor of the Frio Street Building. The room features tvs, bean bags, pool tables and more. It's a perfect place to unwind between classes.
Fun and good health go together
You don't have to be a health nut to have a healthy dose of fun at Campus Rec, one of the most popular spots for student on Main Campus. Joining a club or intramural sport allows you to stay active and enjoy some friendly competitions with students who share the same interests.
Campus Rec also offers workout classes throughout the day, including kickboxing, paddle boarding and yoga.
It isn't all about working out either. You can take nutrition and cooking classes, too….so much fun and delicious!
You may be away from Main Campus, but that doesn't mean you have to be away from all the fun! Campus Recreation offers UTSA students and Campus Rec members a Fitness Center at the Downtown Campus, located on the third floor of the Durango Building (DB 3.302). In addition to cardio and strength equipment, Campus Rec also offers a variety of fitness and sport skills competitions throughout the fall and spring semesters. The Downtown Campus also features Rowdy SportCourt, an outdoor basketball court perfect for a pick up game to unwind after a day of classes. 
Learn about other opportunities through Campus Rec and the Downtown Fitness Center.
Become a work study
Get a jump start on your career while staying on campus and earning a paycheck by becoming a work study. An on-campus job allows you to build your résumé with work experience, learn new skills and network with UTSA professionals.  These opportunities can open doors for your future!
Volunteer
Roadrunners have a heart for giving back and UTSA offers dozens of opportunities to volunteer on campus and in the San Antonio community. Volunteer Services can connect you to service opportunities for one, groups of friends or an entire student organization.
During Roadrunner Days, be a part of Roadrunners Service Day. It begins with a free breakfast then a shuttle takes you and other Roadrunners to a designated service project. It's a great way to meet other students while learning about and experiencing UTSA's deep commitment to community service. 
Volunteer Services also hosts a Volunteer Fair on Main Campus with more than 100 non-profits and community partners from around San Antonio. Attend this fall's Volunteer Fair from 10 a.m. to 1 p.m. on Wednesday, August 29 on the first and second floor corridors of the Student Union. The entire UTSA community is invited to find their place to volunteer and make their impact in the San Antonio community.