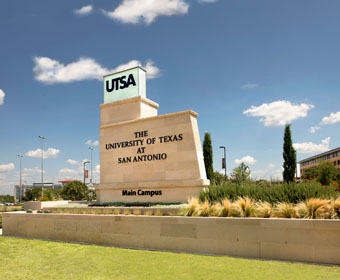 (July 17, 2018) – The University of Texas at San Antonio (UTSA) has launched a national search for the university's next Vice President for Business Affairs to replace Kathy Funk-Baxter, who announced her retirement earlier this year.
As a member of the senior leadership team under President Taylor Eighmy, the Vice President for Business Affairs provides oversight and stewardship of the university's financial resources while working closely with other vice presidents to advance UTSA's education and research mission. A top priority for the new vice president will be overseeing the university's successful transition to a new budget model.
The search committee is chaired by Provost and Vice President for Academic Affairs Kimberly Andrews Espy and includes a diverse representation of faculty, staff and students.
"In addition to steering the implementation of UTSA's new budget model, our Vice President for Business Affairs will play a critical role in other ongoing initiatives, including the Campus Master Plan and the development of our Downtown Campus," said Eighmy.
Executive search firm Storbeck/Pimentel & Associates is assisting with the search process. A Storbeck/Pimentel consultant visited UTSA last week to meet with the search committee and finalize the position description.
"Our search committee members each have a strong understanding of how financial processes impact the academic and research functions of the university," said Espy.  "The committee members were selected carefully based on stakeholder input, and I have every confidence they will help us identify the right candidate who will ensure transparency in all of those processes."
The new Vice President for Business Affairs is expected to be appointed by October 2018.