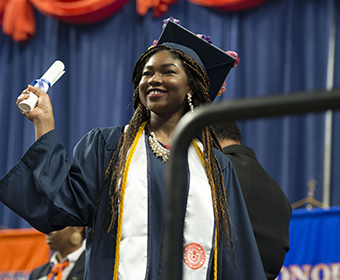 (Sept. 12, 2018) -- UTSA President Taylor Eighmy today updated the progress and next steps to boost student success. The Presidential Initiative on Student Success, launched last fall, has taken a student-centric approach to significantly improve the university's retention and graduation rates.
In an email sent today to faculty, staff and students, Eighmy acknowledges that the university has made dramatic increases in retention and graduation rates over the last decade. UTSA consultants at EAB and Ruffalo Noel Levitz have commented time and time again that improvements of this magnitude are highly unusual within the public university landscape. Data from the Texas Coordinating Board Higher Education Almanac confirm that UTSA is the fastest improving institution in Texas. UTSA is well on its way to becoming a model for student success advancement at the national level.
"The efforts of so many over the last several years to improve our retention and graduation rates have worked," Eighmy said. "We are on a steep trajectory that will see us exceeding national averages in a few short years, and it is in no small part due to activities that occurred long before my arrival, such as the Graduation Rate Improvement Plan (GRIP) and Coordinated and Linked Approaches to Student Success (CLASS)."
With the encouragement of The UT System Board of Regents, UTSA has been asked to focus on continuing its student success momentum by setting and meeting optimistic goals for retention and graduation. The first step was to appoint a task force to the Presidential Initiative on Student Success last fall.
The task force has worked diligently over the last year—together with EAB—to put UTSA's strategy into place. Today, Eighmy announced the results of their efforts: a new Integrated Student Success Plan. The plan outlines a student-focused approach to structuring the university's work over the next two years on the way to achieving a unified vision of student success.
Given the sense of urgency on this topic, efforts over the last year went far beyond analysis and planning. Several tactics were put into motion to continue the steady march toward the university's goals.
Research shows that retention rates for UTSA students living on campus are consistently higher than those who live off campus – especially for first-generation students. This fall, we will launch a new initiative to focus on freshman dorms and residential experiences, building on efforts such as the new First Generation Living and Learning Community and a pilot to offer double-room residence options at a highly attractive price point.
Since faculty are the heartbeat of student success on campus, the successful implementation of a pilot program to provide success marker academic progress reports serves as a proof point.
Achieving retention and graduation targets is only part of the equation when it comes to fostering a culture of student success. Efforts must be campus-wide and highly integrated, which is why the aim to be a model of student success is one of three institutional destinations. Creating a Vice Presidential position dedicated to the effort was another important step, and Interim Vice President for Student Success Rhonda M. Gonzales has built a leadership team to carry UTSA forward.
With the finalization of the new Integrated Student Success Plan, the first phase of the student success initiative has come to a close. This initiative will now move into operational mode with Gonzales and her team overseeing the strategies outlined in the plan in close collaboration with faculty and other units throughout the university. The Student Success Task Force will evolve into smaller working groups to address specific issues and pull in relevant faculty/staff expertise as needed. 
"I am very proud of UTSA's student success efforts and the passion I see in all of you to ensure we are providing our student with every opportunity to excel," said Eighmy. "This is profound, life-changing work that we do."