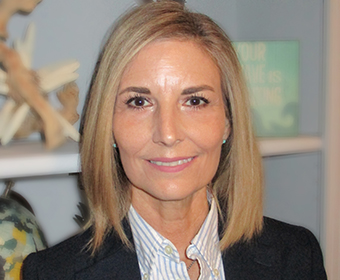 (Nov. 16, 2018) -- In its ongoing quest to reach new levels of excellence, The University of Texas at San Antonio (UTSA) today announced the selection of Kendra Ketchum as Vice President for Information Management and Technology. In this newly created role, Ketchum will transcend the traditional information technology model and drive the overall IT strategy and transformation of the university.

Ketchum has more than 25 years of technology experience in higher education and government organizations, including 17 years of leadership experience. She joins UTSA from the University of North Texas (UNT) System where she is currently the Chief Technology Officer for the IT Shared Services department and leads a team of 120 service management, infrastructure operations, data center operations and telecommunications professionals.

"Everything we do at UTSA, from teaching and advising to research and discovery, fundamentally depends a robust technology infrastructure," said President Taylor Eighmy. "UTSA's advancement as a nationally recognized research institution requires the kind of bold, strategic thinking that has earned Ms. Ketchum a reputation as an IT industry leader. Her impressive record of success in supporting academic and research enterprises will help to move the university forward at a vigorous pace."
Ketchum has made remarkable advancements throughout her 25-year career by focusing on the development of high-performing teams and partnerships to solve institutional and academic challenges with technology, including modernizing infrastructure and service delivery. She has also worked to increase staff development.
"The success of any organization starts with its people," said Ketchum. "Cultivating leaders and organizing teams effectively can create a more engaged workforce and unlock the true potential for greatness. I look forward to working with the outstanding UTSA faculty, staff and students to implement innovative and visionary IT strategies that promote success throughout the university."
In 2015, the UNT System hired Ketchum as CTO to lead its Enterprise Technology Services team. In that role, she has led the delivery of effective IT services, created automation and orchestration efforts to streamline operations and collaborated with the System's Strategic Services division to roll out a new IT Governance model across UNT institutions. Most recently, Ketchum and her team delivered a data warehouse platform to the newly formed UNT System Insights Program, aligning the platform to the needs of the business and delivering more than 70 dashboards to leadership throughout the System.
An active member of the community, Ketchum also currently serves on the Leadership Board for CIOs in Higher Ed (LBCIO), volunteers for the Young Women's Leadership Academy and is involved with Educause Hawkins Leadership.
From 2010 to 2015, Ketchum served as director of Information Technology Services and Chief Enterprise Architect at Texas Wesleyan University (TexWes). In that role, she led the completion of more than 200 technology-enabled academic and business projects, launched a new integrated service desk and gained national recognition for her leadership at the 2013-2014 Gartner International Data Center Conference. She also served as co-chair of TWU's Staff Council.
Prior to joining TWU, Ketchum served as a United States Navy Hospital Corpsman (1990-2000), providing clinical nursing services for Internal Medicine and Surgery Clinics at the Naval Hospital Camp in Lejeune, North Carolina, the Naval Hospital in Rota, Spain, and the Naval Hospital in Corpus Christi. She also served as the department chair of technology at the University of Northwestern Ohio (2001-2008) and as assistant director of technology at Bowling Green State University (2008-2010).
President Eighmy created the Vice President for Information Management and Technology in April 2018 to replace the position of Vice Provost for Information Technology, expanding its scope to reflect the growing importance of information management, systems and integrity as UTSA strives to become a Carnegie R1 university.
The VPIMT will oversee the university's overarching technology environment, including critical IT enablement for research and teaching activities of faculty and students, all information applications and infrastructure related to administrative information technology, information security and technical services for faculty, staff and students to contribute to the success of the University as an intellectual community that is pre-eminent in research, teaching, and service.
UTSA launched a national search in May with a committee comprised of students, faculty and staff. Chaired by Interim Senior Vice Provost for Institutional Effectiveness and Strategic Initiatives Can Saygin, the search process included a technical advisory committee consisting of IT scholars and professionals from several academic and administrative units and open forums in September and October allowing the campus community to meet the finalists.
Ketchum's first day at UTSA will be Jan. 7, 2019.