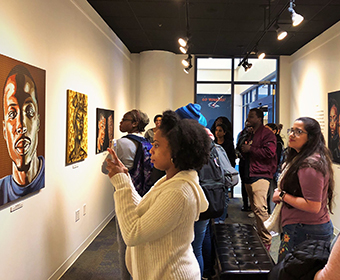 (Feb. 1, 2019) -- As a multicultural university that encourages diversity and inclusion among individuals of all backgrounds and with varying points of view, UTSA will celebrate Black History Month.
Through the month of February, the UTSA community is invited to join student organizations, colleges and departments at events that commemorate the African American people, places and events that have paved the way for racial equality.
UTSA Black History Month events:
Shades of Brown Art Exhibit
Wednesday, Jan. 23 to Friday, Feb. 22
Monday - Thursday 11 a.m. - 7 p.m.
Friday 11 a.m. - 5 p.m.
Gallery 23, Student Union (SU 1.02.23), Main Campus
Observe the artwork of UTSA alumnus Kaldric Dow '13, which explores the ideas of representation of African Americans.
Black History Month Kick-off
Friday, Feb. 1, 11 a.m. – 1 p.m.
Student Union Window Lounge, Main Campus
Join fellow Roadrunners for the social kick off of Black History Month. Hosted by the Student Center for Community Engagement and Inclusion and UTSA Libraries, the event will also feature books by African American authors.
Panel Discussion: East-side transition from African American to Hispanic American
Thursday, Feb. 7, 4 p.m. – 5: 15 p.m.
McKinney Humanities Building (MH 3.01.6), Main Campus
The UTSA African American Studies Program will host a panel of speakers to explore business, education, politics and entertainment.
Volunteering with Thrive Ministries
Saturday, Feb. 9, 8:30 a.m.
Location TBD
Join Thrive Ministries and help feed others in the community.
Pop Up Exhibit: African American Authors
Monday, Feb. 11 to Friday, Feb. 15
John Peace Library 2nd floor, Main Campus
View a pop-up exhibition of African American authors hosted by the UTSA Libraries.
National Society of Black Engineers (NSBE)

UTSA's NSBE will celebrate Black History Month with a series of interactive social events:
Alumni Panel
Tuesday, Feb. 19, 5:30 p.m. - 7: 30 p.m.
Recreation Wellness Center San Antonio Room (RWC 2.218), Main Campus

NSBE alumni will come back to answer questions that members have about life as an engineer outside of school.
Black History Month Trivia Tabling/Pie A Professor!
Wednesday, Feb. 20, 10 a.m.
Outside the south side of McKinney Humanities Building, Main Campus

This interactive trivia tabling game will be a chance for students to learn about black history and STEM related black history.
Friday, Feb. 22, 7 p.m.
CarVel Skate Center, 6807 Bandera Rd., Leon Valley
Put on some skates and join fellow Roadrunners for fun on the rink.
Social Justice Movie Series: Walk on The River
Thursday, Feb. 21, 11 a.m. and 6 p.m.
Student Union, Retama Auditorium (SU 2.02.02), 11 a.m. - 1 p.m.
McKinney Humanities Building (MH 2.01.30), 6 p.m. – 8 p.m.

Watch an independent film that showcases the black history of San Antonio that focuses on the contribution and achievements of African Americans from our community.
Story Telling: The Story of Black High School Football in Texas
Monday, Feb. 25, 1 p.m. – 3 p.m.
H-E-B Student Union Harris Room (HSU 2.212), Main Campus
Listen to stories from author Michael Hurd's "Thursday Night Lights," which showcases black athletes and the history of black high school football in Texas during segregation.
Listen and Talk: Code Switch Goes to College Listening Party
Wednesday, Feb. 27 6 p.m. - 8 p.m.
H-E-B Student Union Travis Room (HSU 2.202), Main Campus
This event will highlight a feature on NPR Code Switch of the Race and Identity through Pop Culture course in African American Studies and the focus on UTSA students discussing topics impacted by racism. Attendees will be listening to the podcast and discussing it with the instructor and students.
Black Heritage Banquet
Thursday, Feb. 28, 6 p.m. – 10 p.m.
H-E-B Student Union Ballrooms (HSU 1.104/1.106), Main Campus
Students are invited to a semi-formal dinner banquet with an awards presentation and dancing. Tickets are required and can be purchased at Roadrunner Express through Feb. 19.