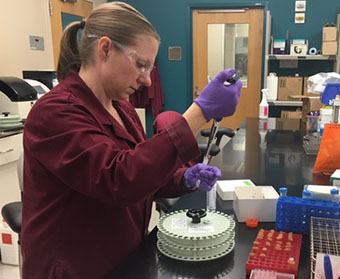 (Feb. 6, 2019) -- At a time when the world's second-deadliest Ebola outbreak has now reached more than 600 confirmed cases, local partners are uniting forces to develop the next generation of infectious disease researchers.
Through an agreement with Texas Biomedical Research Institute (Texas Biomed) and the United States Army Institute of Surgical Research (USAISR), doctoral students in the Cellular and Molecular Biology program at The University of Texas at San Antonio will now have access to nearly 20 new research laboratories.
"The strength of this program is that it offers students a wide selection of research opportunities," said Professor John McCarrey, Kleberg Distinguished University Chair in Cellular and Molecular Biology, who is overseeing the expanded Ph.D. program at UTSA.
This new collaboration will now offer 19 additional laboratories to UTSA Cell & Molecular Biology doctoral students, essentially doubling their research opportunities.
"UTSA will continue to broaden and deepen our collaboration with the many outstanding institutions in San Antonio," said Howard Grimes, Interim Dean of the College of Sciences at UTSA. "These partnerships enhance everyone and drive our collective excellence upward."
At Texas Biomed, UTSA doctoral students will have a chance to research therapeutics against Ebola and the development of vaccines to block HIV at portals of entry. They may also conduct cutting-edge research into how co-infections interact in pediatric AIDS or apply functional genomics to understand airborne infections such tuberculosis or anthrax.
"This is an exciting partnership for Texas Biomed, as we have begun implementing strategic initiatives, including new education programs, that will allow us to become a world-leader in infectious disease research over the next 10 years," said Larry Schlesinger, Texas Biomed President/CEO. "The program also provides the Institute an opportunity to benefit from fresh, innovative ideas and share our time and talents with emerging scientists on our campuses."
But it is not just the combat against deadly diseases that needs a pipeline of researchers. Close to 53,000 military personnel have been wounded in U.S. military wars since 2001.
The USAISR seeks to innovate techniques that will save the lives of U.S. service personnel. Through this new local partnership, UTSA graduate students will have the opportunity to work in USAISR research laboratories on combat casualty care, including new trauma therapies for burn or hemorrhagic injuries sustained by wounded soldiers and advanced cellular therapeutics to fight microbial biofilms responsible for non-healing chronic wounds.
"We are very excited about our new relationship with UTSA and the opportunity to help train the scientists of tomorrow, some of whom may go on to careers in military medical research," said Anthony Pusateri, USAISR director of research. "The USAISR offers great opportunities for graduate students to train with world class scientists who are conducting cutting-edge research for the care of our wounded service members."
Army Officer Jacquelyn Messenger, who conducts research at the USAISR on platelets to improve blood transfusions on the battle field, is part of the first class of UTSA doctoral students who will benefit from UTSA's expanded Cell and Molecular Biology PhD program.
"Completing my research at the USAISR will have a major impact on my future career goals. The work I am doing will directly benefit the military community and it is immediately visible to my superiors in the blood community," said Messenger. "Whether I'm assigned to a transfusion service, a donor center or am fortunate enough to receive a follow-on research assignment, I know that the knowledge I gain during my time here will be beneficial both as an army officer and as a scientist."
The UTSA Cell and Molecular Biology doctorate program began in 2004. Conversations about expansion began between UTSA,Texas Biomed and the USAISR about three years ago. Now that state and federal requirements have been cleared, the partnership is in launch mode and UTSA is actively seeking additional new doctoral candidates to reap the benefits of these many new research opportunities. 
"We hope to at least double our number of graduates. We want our Cell & Molecular Biology PhD program to rival the best in the country," said McCarrey.