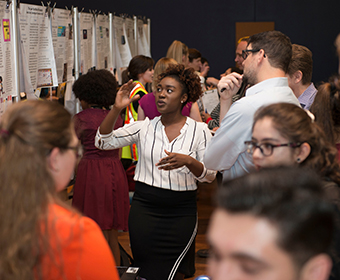 (Feb. 25, 2019) -- The UTSA Classroom to Career Task Force released a report this week, completing Phase I of a campuswide initiative launched in September by UTSA President Taylor Eighmy and led by Provost and Vice President of Academic Affairs Kimberly Andrews Espy. The initiative seeks to further develop and promote experiential learning opportunities for UTSA students.
"This is an important milestone toward making experiential learning more widely available to our Roadrunners," said Eighmy. "Classroom to Career experiences benefit our San Antonio community through workforce development – and by keeping our talented students in our community."
"We intend to make Classroom to Career — and the whole notion of experiential learning —foundational to the Roadrunner learning experience. Ultimately, we want 75% of our undergraduates to have some form of experiential learning opportunity when this program is up and running."
The Task Force, chaired by Senior Vice Provost of Academic Affairs and Dean of University College Heather Shipley, included faculty and staff from across the university, as well as two student government representatives.
"The C2C initiative is important because it gives our students an opportunity to gain the necessary skills and knowledge in the classroom and apply it to their post-collegiate career," said Student Government Association Academic Affairs Committee Chair John Aguirre. 
Classroom to Career includes engaged learning both inside and outside the classroom. This includes, but is not limited to, internships, service learning, hands-on simulations in the classroom, study abroad, undergraduate research, and capstone projects. 
>> Learn more about experiential learning at UTSA.
"The potential for experiential learning to positively impact student learning, engagement, marketable skills, and career outcomes is well-documented," said Espy. "I thank the Task Force for the significant data collection and outreach they have done, and I look forward to discussing the Task Force recommendations with our campus and community stakeholders."
The Task Force was charged with the data discovery and analysis phase (i.e., "Phase I") of the initiative, and accomplished this via a survey of UTSA's current experiential learning landscape, researching available resources, exploring the needs of local employers and the community, and identifying best practices from peer institutions. These findings informed a set of recommendations in the report to guide Phase II. Notably, these recommendations include a new staff position to support and create experiential learning opportunities across the university, a centralized tracking system to measure progress, and both internal-facing and front-facing websites as a resource for students and external partners. 
"Through extensive research, including faculty and staff surveys, the Task Force showed the depth and breadth of high-quality experiential learning programs that already exist across campus and the community," said Shipley. "Many of the pieces are already in place, and now it's a matter of helping our faculty, staff and community partners scale up and replicate the success stories, plus support innovative ideas as they come in." 
As the Initiative enters Phase II, Shipley will continue to chair the process. This includes building a new team to implement the Phase I recommendations, including the Task Force recommendation of a dedicated staff member. Outreach efforts are ongoing, and all members of the university and the community are encouraged to submit questions, input, or partnership opportunities to C2C@utsa.edu.