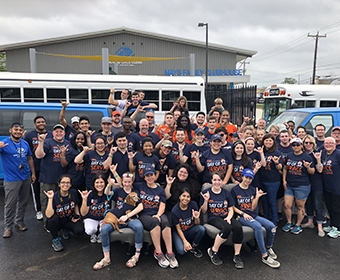 (Feb. 14, 2019) -- In celebration of UTSA's 50th anniversary as San Antonio's urban serving university, Roadrunners are coming together to give back to their city. During UTSA Day of Service, hundreds of students, faculty, staff and alumni will roll up their sleeves to volunteer at nearly 20 service agencies throughout San Antonio. This year's Day of Service themes include animals, arts and culture, children, community, educational, environmental, health, homelessness and hunger, and youth and family programs.
The UTSA Day of Service begins at 8:30 a.m. on Saturday, March 2 at the Main Campus. Volunteers will gather in front of the Convocation Center to check in and have breakfast. Shuttles will leave campus at 9:15 a.m. to take the volunteers to their assigned service project.
            >> Register to participate in UTSA Day of Service.
Je'e Willis, a UTSA senior majoring in geography and environmental sustainability, is taking part for the second straight year.
"Day of Service helps bring the whole campus together to meet new people while volunteering for  great causes," said Willis. "It's a great way for students to give back to their campus and to connect with their fellow Roadrunner students, faculty and staff."   
Participants should dress comfortably, following the dress code based off project needs and come ready to work. Those who register online will receive a Day of Service t-shirt. Once registration closes at 12 p.m. on Tuesday, Feb. 26 and prior to the Day of Service on March 2, volunteers will be notified of their assigned service project.
Participating service agencies and projects include:
Animal Care Services: clinic and adoption projects

Animal Defense League of Texas: painting

Cibolo Nature Center and Farm: trail work and gardening

Early Head Start – Child Care Partnership Program: gardening, painting and playground clean up

Habitat for Humanity: building homes

Mitchell Lake Audubon Center: trail work and planting

Muscular Dystrophy Association South Texas: building kits for San Antonio Fire Dept. Fill the Boot campaign

Plaza Guadalupe: planting and painting

San Antonio Food Bank: sorting and stocking shelves

San Antonio Parks: Beautification

San Antonio River Walk Association: Mardi Gras Festival preparations

San Antonio State Hospital: landscape beautification

San Antonio Youth Literary: book sorting

The Chromosome 18 Registry and Research Society: preparing for the Starfish 5K Run/Walk

The DoSeum: family engagement and prepping materials

UTSA Campus Garden: gardening clean up

UTSA Roadrunner Pantry: cleaning and organizing
Inspired by President Taylor Eighmy's desire to integrate a service component into his Inauguration in 2017, the Day of Service emphasizes one of UTSA's longest standing volunteer traditions for the Roadrunner Nation to come together and give back to the San Antonio community.
>> Read President Eighmy and Peggy Eighmy's message about UTSA Day of Service.
The event also serves as UTSA's contribution to The University of Texas System's United to Serve volunteer initiative, challenging each campus in the system to develop a unique service activity. This year marks the 15th year UTSA is holding a Day of Service/United to Serve event.