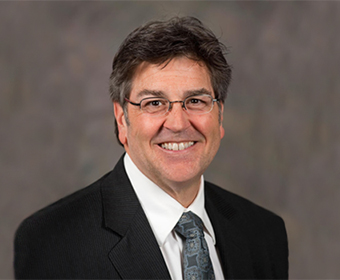 (Feb. 28, 2019) --The UTSA Office of the Vice President for Research, Economic Development, and Knowledge Enterprise (VPREDKE) today announced a new appointment to the division. Howard Grimes has been named Associate Vice President and Associate Vice Provost for Institutional Initiatives effective March 1, 2019.
In this inaugural position, Grimes will focus on strategic institutional initiatives as outlined in the university's strategic vision. He will report to Interim Vice President for Research, Economic Development, and Knowledge Enterprise Bernard Arulanandam and Provost and Vice President for Academic Affairs Kimberly Andrews Espy.
His new portfolio includes projects related to achieving Carnegie R1 status and National Research University Fund (NRUF) eligibility; expansion of the Research Core Facilities Program and strengthening its infrastructure; facilitating the Transdisciplinary Research Council to foster multi- and inter-disciplinary research and academic activities; and assisting with strategic faculty recruitment.
Under his leadership as Interim Dean of the UTSA College of Sciences for the past seven months, Grimes has facilitated collaborations, most recently with the Texas Biomedical Research Institute and the United States Army Institute of Surgical Research (USAISR) to give UTSA doctoral students in the Cellular and Molecular Biology program access to nearly 20 new research laboratories.
Prior to UTSA, Grimes worked for more than twenty years at Washington State University, where he was professor in the School of Molecular Biosciences. He was the dean of the Graduate School from 2002 to 2012 and concurrently served as vice president for research from 2008 to 2012. Grimes also served as vice president for research and economic development at Idaho State University (2012–2015) and as director for innovation and industry partnerships for Idaho National Lab and the Center for Advance Energy Studies (2015–2017).
Grimes holds a Ph.D. in botany (biophysics) from North Carolina State University, an M.S. in plant pathology from the University of Massachusetts, and an A.B. in chemistry and biology from Indiana University. He is a fellow of the American Association for the Advancement of Science.
"Howard will be a great addition to both offices, bringing his collaborative approach and multidisciplinary teaming to our initiatives", said Arulanandam.