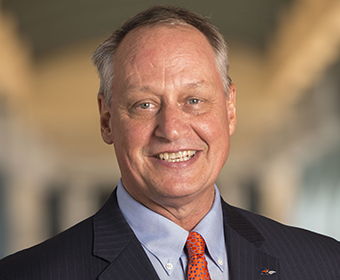 (March 26, 2019) – The San Antonio Business Journal has named UTSA President Taylor Eighmy its inaugural Dealmaker of the Year. The honor is part of the new Building San Antonio Awards, which celebrates standout real estate projects in San Antonio.
UTSA has been undergoing a renaissance since Eighmy began his service as the university's sixth president in fall 2017. Eighmy set in motion a series of key initiatives, the first phase of a 10-year strategy to make UTSA San Antonio's premiere multicultural institution and set a course for it to earn National Research University Fund (NRUF) eligibility and R1 (highest research activity) classification from the Carnegie Commission, critical steps along the university's path to becoming a great discovery enterprise.
An integral part of Eighmy's plan is accelerating the development of the UTSA Downtown Campus as a destination for producing highly skilled professionals many disciplines, including big data analytics and cybersecurity, to advance economic development in the urban core and create prosperity for San Antonio.
>> Discover the UTSA Downtown Campus
After just two months at UTSA, during the citywide 20th anniversary celebration for the Downtown Campus, Eighmy unveiled his grand vision to make UTSA San Antonio's model university of the future. The 10-year plan for the Downtown Campus gained vast momentum last fall when UTSA received a $70 million commitment from The University of Texas System Board of Regents for construction of two new facilities: a National Security Collaboration Center (NSCC) and a School of Data Science. A $15 million gift from San Antonio business leader Graham Weston to support the School of Data Science soon followed.
Weston, speaking during the gift announcement last September, emphasized the significance of UTSA's vision for the San Antonio community and the world.
"UTSA is building the best data science program in the world. It will train the smartest students in the field and make them the hottest commodities in the workforce. We hope that as UTSA creates them, the biggest employers in the world will come to downtown San Antonio to recruit their IT workforces," said Weston. "The School of Data Science will bring thousands of the most innovative students, faculty and researchers together and will accelerate everything else in our downtown tech ecosystem."
Eighmy's vision for UTSA has received strong support from city, business and institutional leaders.
"What we are witnessing today is the creation of transformative opportunities for San Antonio for generations to come," said Eighmy during the same announcement last fall. "This convergence of talent, collaboration and innovation will create new jobs and new prosperity while further elevating San Antonio as a powerhouse for cybersecurity, data science and entrepreneurship. The economic benefits to San Antonio can only be fully realized through a government-university-industry partnership of this magnitude."
The NSCC, the state's largest hub for government, university and industry partners in the cybersecurity field, is slated to open at the Downtown Campus in (year). It is currently based at the Main Campus and has secured more than 35 individual partners, working with UTSA faculty and students to advance research, education and workforce development in cybersecurity, data analytics and cloud computing. Since its opening in October 2018, UTSA has secured over $2.5 million in research funding to support the NSCC's mission.
Eighmy has also garnered support from local government leaders. Last October, the San Antonio City Council voted to transfer several publicly owned downtown parcels of land to the university to accommodate the expansion plans. Bexar County also approved a land transfer to house a future building for the UTSA College of Business expansion.
Another step in the initial phase of UTSA's 10-year vision is the development of its Cattleman's Square property. A public-private partnership would support the mixed use residential tower, located at the Downtown Campus.
With a goal of enrolling 45,000 students by 2028, UTSA is also embarking on new student housing for the Main Campus to support the growing student population. Development plans are already in the works for Guadalupe Hall, a resident hall for undergraduate freshmen. Construction is slated to begin this fall. Honors Residential College, an interactive, vibrant living/learning community for UTSA Honors College students, is also in the planning stages. Additionally, plans for a new mixed-use neighborhood called Roadrunner Village will include housing for faculty, staff and upper-class students.
Eighmy and other 2019 Building San Antonio award winners will be recognized at a ceremony on May 9 at the Embassy Suites by Hilton at 7610 S. New Braunfels Ave.