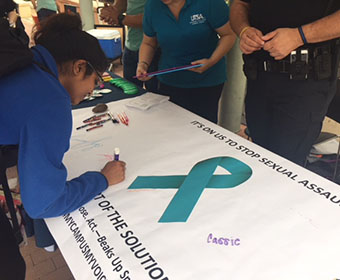 (April 2, 2019) – The UTSA community, in support of National Sexual Assault Awareness and Prevention Month, will come together for the 5th annual It's on Us: Call to Action Day from 10 a.m. to 2 p.m. on Tuesday, April 2 on the Student Union Paseo at the UTSA Main Campus.
During It's On Us-Call to Action Day, students, faculty and staff will make the personal commitment to keep others safe from sexual violence by becoming an active bystander. They'll pledge to uphold the Beaks Up Speak Up motto: Recognize potential harm; Choose to respond; and Take action.
Partners will provide information to raise awareness about the resources available on campus to support people impacted by sexual violence. The event will include interactive games, music and a booth where Roadrunners can share how they are committing to be part of the solution.
"We work year-round to inspire a culture change that addresses and ends sexual violence," said Cpl. Maranda Tupper, who leads the UTSA Police Department Community Affairs Section. "We want to ensure that people know about the resources and services available, especially where to go and how to obtain assistance."
UTSA offers more than 40 initiatives and educational resources and events for students, faculty and staff to prevent and report sexual violence or misconduct.
In February 2019, UTSA announced the launch of the President's Initiative on Preventing Sexual Violence and Misconduct. Incorporating the efforts of numerous departments and organizations, the initiative encompasses a wide range of resources for people involved in incidents or accusations of sexual assault. 
A key component was the creation of the Violence Prevention Action Team, which is developing enhanced orientation programming for incoming students and a peer educators' cohort. UTSA is currently working with 37 colleges and universities in the Culture of Respect Collective to improve its approaches to addressing sexual violence on campus. Greater emphases on training and development and data governance and reporting are also emblematic of this initiative. 
Additionally, the UTSA Office of Student Advocacy, Violence Prevention and Empowerment has expanded the staffing resources needed to address sexual misconduct prevention and survivor advocacy. The office integrates sexual assault awareness and prevention initiatives into daily campus life, supports individuals involved in sexual misconduct, harassment and violence cases, raises awareness of UTSA's programs and services across campus and coordinates expanded training for students, faculty and staff.
Campus community members can share information on social media using the hashtags #EndSexualViolence, #MyCampusMyVoice and #BeaksUpSpeakUp.