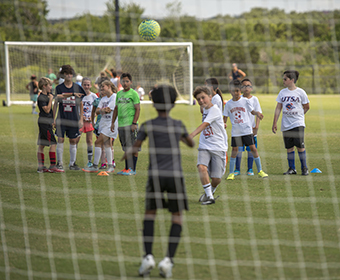 (June 10, 2019) – Summer is here and the fun is just getting started at UTSA. A full slate of summer camps begin this week on the UTSA Main and Downtown Campuses.
UTSA camps cover every interest—from science, engineering and architecture to sports, music and writing. Each camp offers kids and teens a place to try something new while having fun and experiencing life on a college campus.
            >> Register for a UTSA Summer Camp.
Throughout the summer, UTSA hosts half-day and full-day sessions at the Main and Downtown Campuses. Some last a few days while others extend a week or two.
This week's camps include:
Football Camps
UTSA Football coaching staff and members of the UTSA Football Team host three different camps this week. Future Runners in 2nd through 8th grades build a quality foundation for the game. Kicking camp is designed for punters, kickers and long snappers from 9th grade to age 24. Friday Night Lights provides the same age group with an energetic and competitive camp under the lights at UTSA.
Men's Basketball Skills Camp
This camp for 3rd through 12th graders focuses on developing the fundamentals of the game while taking campers through drills they can practice to improve their game. Campers will also receive skill instruction from UTSA players and coaches during daily competitions and games.
Baseball Youth Camp
This full day camp for 5 to 14 year olds will teach them hitting, infield and outfield play, bunting and base running, pitching and catching. The kids will compete in the Roadrunner Olympics on the final morning of camp.
Soccer Camps
Roadrunner youth soccer camps provide valuable instruction for players in 1st through 7th grades of all skill levels. Campers are divided by age and ability to assure each player improves technically and tactically.
Tennis Camps
UTSA Tennis coaching staff and members of the Tennis Team hosts weekly camps for beginners ages 6 to 11 and junior players in middle school. They'll learn the basics and work on fine tuning skills they already have on the court.
Summer Career Academy in Architecture and Interior Design
This two-week camp introduces high school and college students and adults to the careers and education of architects and interior designers. Campers will gain hands-on insight from UTSA's world-renowned faculty and find out if interior design or architecture are right for them.
Girl CodeRunners
This free camp for female middle school students includes hands-on activitites to help them explore and expand their understanding of webpage design using HyperText Markup Language (HTML), Animation, gaming, storytelling using SCRATCH and Robotics using LEGO Mindstorm EV3.
Performing Arts Camp
This intensive workshop style camp is for students interested in the performing arts - both onstage and behind the scenes. Students will receive instruction in acting, voice, dance, theatre history, music theory, costuming and stage properties. The camp culminates with a performance on the final evening.
Japanese Language and Culture Camp
Campers will enjoy the summer learning to read, write and speak the Japanese language. They also will learn about the Japanese culture and spend time cooking, creating arts and crafts activities with an East Asian theme. This camp is intended for children ages 7-12.
Roadrunner Readers Program
The tutoring sessions are designed to help children in 2nd-8th grades who are reading below grade level. Tutors identify the child's strengths and needs and create highly engaging literacy experiences designed to support literacy growth and development.