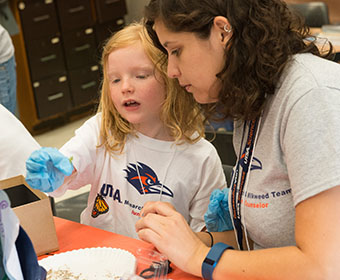 (July 8, 2019) -- Campers from around San Antonio return to UTSA this week to explore, learn and broaden their summer experiences through a diverse selection of summer camps.
UTSA camps cover every interest—from science, engineering and architecture to sports, music and writing. Each camp offers kids and teens a place to try something new while having fun and experiencing life on a college campus.
            >> Register for a UTSA Summer Camp.
Throughout the summer, UTSA hosts half-day and full-day sessions at the Main and Downtown Campuses. Some last a few days while others extend a week or two.
This week's camps include:
STREAMsation
Campers in grades 1 - 8 will use modern and ancient technology to participate in hands-on activities to explore and expand their understanding of science, technology, reading/language arts, engineering, art and mathematics. This week, campers will dive into life science, exploring the natural environment and the positive and negative impacts humans have on the ecosystems. 
Around the World with Archaeology
Campers ages 9-13 will discover the field of archaeology and explore archaeological sites from Asia, Africa, Europe, Texas and more with the archaeologists at UTSA's Center for Archaeological Research. Campers can expect archaeology themed activities, games, crafts and a hands-on look at artifacts in a lab.
Monarch Butterfly Ecology Summer Camp
UTSA environmental science staff and students will share their knowledge and passion about the state insect of Texas. Campers will learn what's being done to increase the monarch butterfly population and how to have an appreciation for wildlife and wildlife conservation. This camp is intended for children ages 6-12.
Chinese Language and Culture Camp
Campers ages 6-12 will immerse in Mandarin classes, learn colors and numbers, hold daily conversations and learn how to say family members in Chinese. They will participate in various Chinese cultural activities, including making traditional Chinese food.
Percussion Camp
This camp will immerse students in 6th-12th grades in the exciting world of percussion, helping them develop their technique and musicality, improve sight reading abilities and learn about new styles of music and instruments through interactive masterclasses and ensemble experiences.
Girl CodeRunners
This free camp for female middle school students includes hands-on activitites to help them explore and expand their understanding of webpage design using HyperText Markup Language (HTML), Animation, gaming, storytelling using SCRATCH and Robotics using LEGO Mindstorm EV3.
Baseball Camp
This full day camp for 5 to 14 year olds will teach them hitting, infield and outfield play, bunting and base running, pitching and catching. The kids will compete in the Roadrunner Olympics on the final morning of camp.
Soccer Camps
Roadrunner youth soccer camps provide valuable instruction for players in 1st through 7th grades of all skill levels. Campers are divided by age and ability to assure each player improves technically and tactically.
Tennis Camps
UTSA Tennis coaching staff and members of the Tennis Team hosts weekly camps for beginners ages 6 to 11 and junior players in middle school. They'll learn the basics and work on fine tuning skills they already have on the court.
Volleyball Camps
UTSA Volleyball coaching staff and players host a variety of camps this week that focus on developing the youngest athletes all the way up to elite.