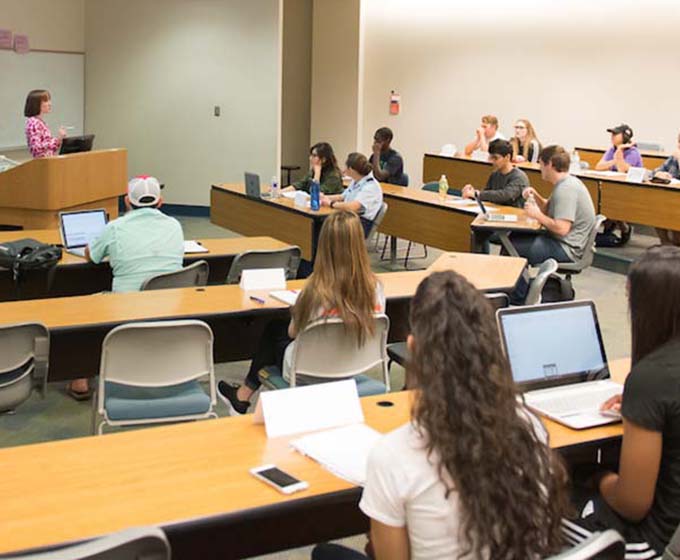 (July 24, 2019) -- Beginning this fall, UTSA will embark on a transdisciplinary effort to bring together intellectually diverse researchers by strategically hiring clusters of 20 faculty scholars to augment existing UTSA expertise in the following areas: 
Social and Environmental Challenges in Latin America
Quantum Information Science
Human Performance
Virtual and Augmented Reality
This new hiring focus is an outcome of the Clustered and Connected Hiring Program (CCP), one of five complementary programs within the Strategic Faculty Hiring Initiative. Launched in March by UTSA Provost and Senior Vice President Kimberly Andrews Espy, this academic initiative supports the hiring of promising, accomplished and diverse faculty in key areas to help the university address society's grand challenges and support President Eighmy's vision for UTSA.
"Addressing today's most significant societal challenges requires hiring strategies that connect, cluster and cut across disciplinary divides to enable true transdisciplinary innovations," said Espy. "Our intent is to attract groups of scholars who together will add depth and expertise in specific areas who will connect the efforts of our existing faculty to enhance our competitiveness and align UTSA's capabilities with federal, foundation and industry research opportunities."
A broad spectrum of CCP proposals were submitted by existing UTSA faculty teams.
"Every cluster hiring proposal we received was thoughtfully undertaken and highly innovative," acknowledged Espy. "It is truly exciting to see the collaborative and convergent research that is already happening amongst our faculty and the possibilities that exist with strategic, focused support. I have no doubt these hires will have a big impact our community."
Twelve proposals were reviewed by a transdisciplinary research council made up of the academic deans and chaired by Interim Vice President for Research, Economic Development and Knowledge Enterprise Bernard Arulanandam. Submissions were evaluated based on many factors, including: ability to enhance national or international preeminence and campus leadership in a priority area; multi-college cross-disciplinary composition and diversity of backgrounds and perspectives; ability to increased funding to meet UT System and State goals; and ability to concretely link together existing scholarly and program capacities along with demonstrated commitment to utilizing collaborative and convergent research approaches.
"The portfolio of chosen clusters is highly transdisciplinary and aligned with areas of funding priorities at federal and philanthropic levels. Researchers from four diverse research areas are focused on outcome driven inquiries and providing solutions that influence public impact-focused research," explained Arulanandam.
The cluster hires will be spread across two hiring cycles, with searches starting fall 2019 and hiring ending in fiscal year 2022. This tactic will allow phasing so that critical expertise or leadership gaps can be filled first, which may impact specific hires in the ensuing year.
UTSA's Strategic Faculty Hiring Initiative is composed of five complementary programs which will provide support mechanisms to academic colleges to recruit and hire some of the best and brightest minds of diverse backgrounds and experiences, providing intellectual prowess to help the university address today's most significant challenges.
The Clustered and Connected Hiring Program builds upon past faculty cluster hiring initiatives which focused on strengthening UTSA's expertise in cybersecurity, brain health, analytics and data sciences, and, most recently, artificial intelligence.