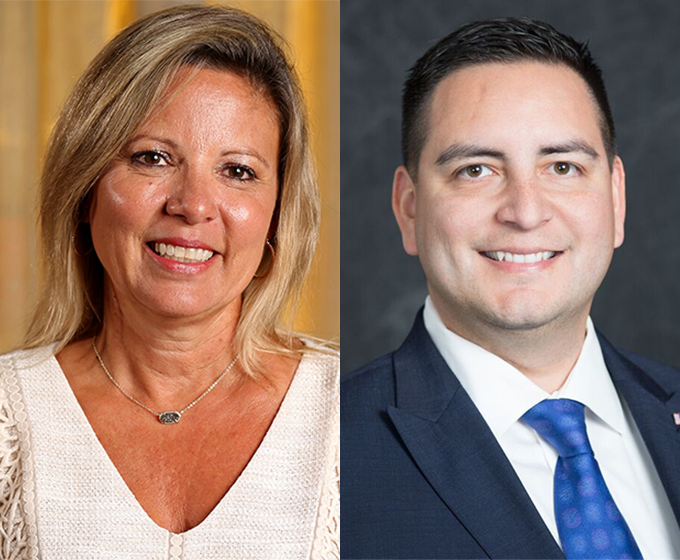 (Sept. 25, 2019) -- A pair of UTSA alumni are set to take the stage at the Fall Commencement ceremonies to deliver the keynote speeches to more than 4,100 eligible graduates at the Alamodome in December. 
San Antonio Express-News chairman Susan Lynch Pape '86 will kick off the first ceremony at 10 a.m. on Sunday, Dec. 15, honoring the College of Engineering and the College of Liberal and Fine Arts. 
A South Texas native, Lynch Pape received her bachelor's degree in accounting from UTSA in 1986 before earning her certified public accountant designation in 1987. Deeply tied to the community, she has spent her entire professional career in San Antonio. Lynch Pape spent 15 years with KENS-TV as chief financial officer and with Harte Hanks Television as vice president. Before KENS-TV, she worked as an auditor for Ernst & Young. 
In 2005 she joined Hearst, a company where she's held several positions, including the chief operating officer of the San Antonio Express-News and chief financial officer of the Houston Chronicle. Lynch Pape became the first woman publisher of the Express-News in 2016, a position she held for two years. Hearst named Lynch Pape chairman of the newspaper in August. Aside from her role at the paper Lynch is part of several community organizations, such as the San Antonio Sports Foundation. 
Texas State Rep. Philip Cortez '02, M.P.A.'07 will give the keynote address at the ceremony honoring College of Education and Human Development, College of Sciences and University College at 3 p.m. on Sunday, Dec. 15. He also will deliver the address at the ceremony for the College of Architecture, Construction and Planning; College of Business; and College of Public Policy at 10 a.m. on Monday, Dec. 16. 
Cortez, who has served in the U.S. Air Force since 1999 in several ranks, grew up on the southside of San Antonio. He earned an associate's degree from Palo Alto before obtaining both a bachelor of arts in political science in 2002 and a master of public administration in 2007 from UTSA. In 2017 he earned his Ph.D. in educational administration from UT Austin.
He joined the San Antonio city council in 2007 to represent District 4 with a focus on neighborhood and citywide improvements. He was reelected in 2009. Cortez has helped pass legislation supporting veterans and their families, improving public schools, protecting senior citizens and bringing jobs to Bexar County since being elected to the Texas House in 2012.