Rendering by Alamo Architects
Sept. 30, 2019 -- A significant milestone aimed at enhancing student success for UTSA students begins today. Construction work is underway on Guadalupe Hall, the university's newest living and learning community for freshmen. The project is part of UTSA's Campus Master Plan, which will guide the development of campuses over the next decade, supporting world-class instruction and research to meet the needs of a growing population. 
"This is a big day for UTSA and our students as the vision to provide more on-campus housing gets off the ground," said Veronica Mendez, UTSA's senior vice president for Business Affairs and chief financial officer. "This new living and learning community will dramatically impact the student campus experience, further supporting student success, especially among our freshman and first-generation student populations." 
Data from UTSA's Office of Institutional Research finds that first-generation freshmen have a retention rate of 76%, compared to 74% for first-generation students who live off campus. Also, among UTSA freshmen who are at-risk, those who live on campus have a retention rate of 69%, compared to 64% for the same group who live off campus. 
"Guadalupe Hall is designed with a specific focus on student success and enhancing the campus experience with essential elements to help students thrive," said Kimberly Andrews Espy, UTSA provost and senior vice president for Academic Affairs. "By providing our students with the tools to be successful from the day they step foot on campus we are starting them on a path to becoming workforce-ready and successful in a global economy."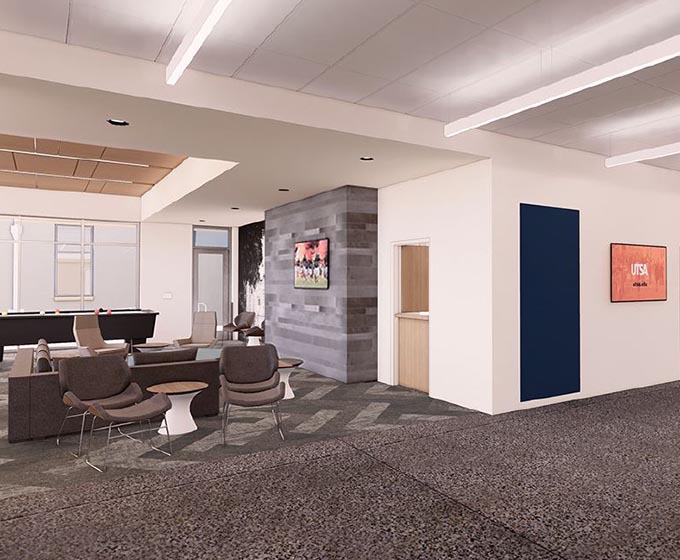 The integrated living and learning community will include group study areas in multiple locations and multipurpose space to give students more opportunities to engage faculty and staff and fellow students. The 372-bed residence hall will feature affordable double-occupancy rooms, which have repeatedly been shown by researchers to promote retention and social skills development. The four-story building will feature study lounges, an academic resource center, community lounges, community kitchens, laundry rooms, group study areas, a multipurpose and seminar room, and a coffee shop. 
Students are expected to move into the 101,351-gross-square-foot structure before the fall 2021 semester, raising the number of UTSA students living on campus to 4,508. 
Beginning today, the UTSA community will start to see fencing being installed around the future home of Guadalupe Hall at the southwest corner of Brenan and Tobin avenues, in the heart of the residential district on the Main Campus. Also this week, crews will identify utility locations and install storm water pollution-prevention measures. To provide a safe path for students to navigate around the construction site, crews will also be creating a temporary sidewalk on Tobin Avenue from Brenan Avenue to Resident Lot 4 and a temporary crosswalk from Roadrunner Café to Resident Lot 4. Construction on the physical building is slated to begin in November.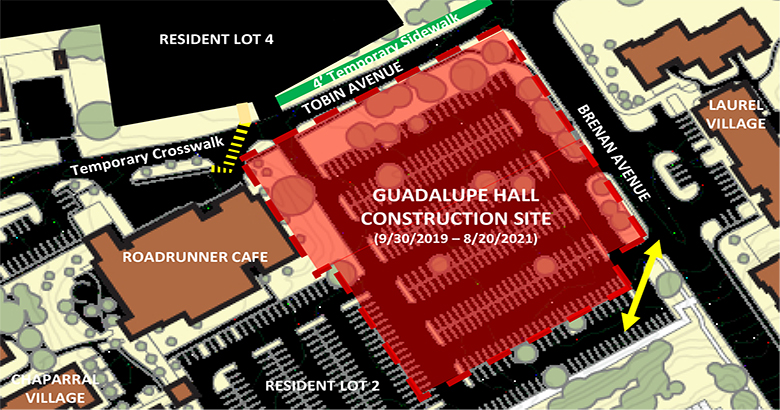 As part of the UT System's Capital Improvement Program, the UT System Board of Regents authorized the projected cost of $43.6 million for the project, of which $38.6 million will come from the Revenue Financing System. The remaining funds will come from UTSA reserves. Alamo Architects, in partnership with Treanor HL, is leading the design of Guadalupe Hall. Additionally, Intelligent Engineering Services, Shah Smith and Pape-Dawson will serve as engineers for the project and Whiting-Turner as the Construction Manager at-Risk. 
To support this campus expansion Campus Services opened the new Resident Lot 5 off of Barshop Boulevard at the start of the fall 2019 semester. Students with Resident Housing parking permits are able to park in any unmarked resident space in Resident Lots 1-5. Residents of Laurel Village and Alvarez Hall are encouraged to park in Resident Lot 1 or 4, while residents of Chaparral Village and Chisholm Hall are encouraged to use Resident Lots 3 or 5. View the UTSA parking map for more information on resident parking areas. 
Guadalupe Hall is the dawning of a series of new housing developments planned for the Main and Downtown Campuses as UTSA prepares for enrollment of 45,000 by 2028. The Honors Residential College, an interactive, vibrant living/learning community for Honors College students, is in the planning stages. Over the summer the Honors Residential College team worked with students, faculty and administrators to finalize the programming phase, including site layout, dining facilities and mock floorplans. A diverse set of bedroom, suite and classroom floorplans have been selected as well as administrative spaces for the Honors College. 
UTSA is also making plans for Cattleman Square Residential Tower, a high-rise housing option to serve the Downtown Campus. The City of San Antonio is working to improve sidewalks and signaling in the area in anticipation of a growing pedestrian and residential population. Plans are also underway for a new mixed-use neighborhood on Main Campus called Roadrunner Village, which will include housing for faculty, staff and upper-class students, fostering a sense of belonging and aiding the university's retention efforts.