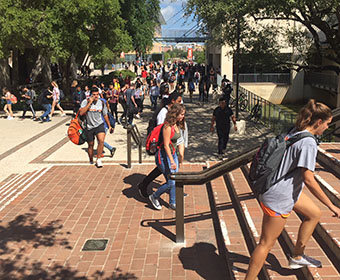 Oct. 22, 2019 — Editor's Note: UTSA Provost and Senior Vice President for Academic Affairs Kimberly Andrews Espy and UTSA Senior Vice President for Business Affairs Veronica Mendez sent this email to students today.
Dear Roadrunners,
Every two years, U.T. System institutions have the opportunity to develop a tuition and fees proposal for consideration by the Board of Regents. This is an important process that UTSA approaches carefully and thoughtfully, guided by our commitment to affordability and student success. We are writing today to share an update on the proposal UTSA will be bringing forward for the 2020-2021 and 2021-2022 academic years.
We began to develop our FY 21/FY 22 tuition and fees proposal in late August 2019, when the U.T. System provided us with formal notification of its new submission process. Student input has been integral to the development of the proposal, in addition to input from the Academic Council, University Leadership Council and Resource Management Team. When we met with student leaders including the President's Student Advisory Council, Student Government Association Executive Branch and Student Services Fee Advisory Committee, for example, to gain ongoing feedback to progressively refine the proposal options, that input led us to reduce the increases in our proposal for three student fees.
Over the last five years, UTSA has offered the lowest tuition and fees increase among U.T. System institutions: $511 per student compared to increases at other U.T. System institutions ranking from $592 to $2,414.
Additionally, UTSA is one of eight universities designated by Texas as emerging research universities. Among this group, UTSA has experienced the lowest overall tuition and fees increase ($511/student) over the last five years. We have also increased our tuition and fees at a substantially slower rate than every other university in this group except one.
Our compound average growth rate in tuition and fees (1.7%) over the same period is lower than inflation among cities in our region (2.2%) and in higher education generally (2.6%). We are proud that we have been able to balance our strong commitment to keeping your educational costs as low as possible with the need to generate financial support to advance key institutional priorities.
In line with our history of keeping tuition and fees as low as possible for students, our FY 21 and FY 22 alternatives for tuition and fees increases includes a variety of scenarios ranging from $134.68 to $387.89 per academic year (a 2.5% to 7.2% increase). The former equates to increases that account solely for inflation; the latter reflects increases that would accommodate all the prioritized needs for advancing student success.
 From our discussions, the students' priorities include:
Increased financial aid to enable college going and help defray their cost of attendance
Improved enrollment services to enhance recruitment, admission and other registration-related services as well as increased faculty to support UTSA's planned growth
Enhanced online learning opportunities that increase course access and availability to improve student success and facilitate timely graduation
Additional staffing, programming and scholarships that increase marketable skills through on-campus work opportunities and promote internships, service learning, undergraduate research, study abroad and other experiences
Upgraded classroom and university technologies to improve the student learning experience and support enrollment growth, as well as technology upgrades for the university's computing and network infrastructure, and improvements to security operations
A continued focus on advancing inclusion with the addition of two licensed police and advocacy professionals
Deepened student learning through increased recitations and other support taught by an increase in graduate teaching assistants
Staffing and operational expenses for UTSA's new College for Health, Community and Policy and School of Data Science to further prepare students for the jobs of the future
Expanded library hours (to 24/7 at the John Peace Library and 24/5 at the Downtown Campus Library), additional study areas in the JPL and access to UTSA's extensive material collections
Increased advising services to add advisors to accelerate growth in student retention and graduation, as well as expand advising and career services to graduate students to promote degree completion
Because we understand the challenges that families face, our FY 21/FY 22 tuition and fees proposal will consider affordability by further setting aside substantial aid funding to benefit UTSA students who are less advantaged financially. Currently, UTSA students from households with a median income of less than $50,000 per year receive financial aid that covers an average of 80% of their cost of attendance. Financial aid covers 51% of these costs on average for those in the middle income bracket ($50,000 and $100,000).
Over the next several months, various reviews of our tuition and fees concepts will take place before the proposal is finalized. On our campus, next steps include prioritization by the University Leadership Council, review by the university's Resource Management Team and a decision by President Eighmy about the scenarios and recommendations that will shared with the U.T. System. This process will be completed by November 1, 2019.
From there, we will continue to work closely with U.T. System leaders on our proposal. Following that discussion, they will make a recommendation to the Board of Regents on behalf of each academic and health institution in the System. The Regents will then deliberate and are expected to make a final decision by February 2020.
Questions regarding the process or UTSA's proposal are welcome and can be directed to news@utsa.edu. Additional details may also be found on our Tuition and Fees website.
Our thanks go to the many students whose candid feedback helped shape this year's proposal and make it all the more reflective of our students' needs. We are also grateful to the university community for recognizing the important task of balancing student success while securing the funding necessary to meet the demands of a growing student population.