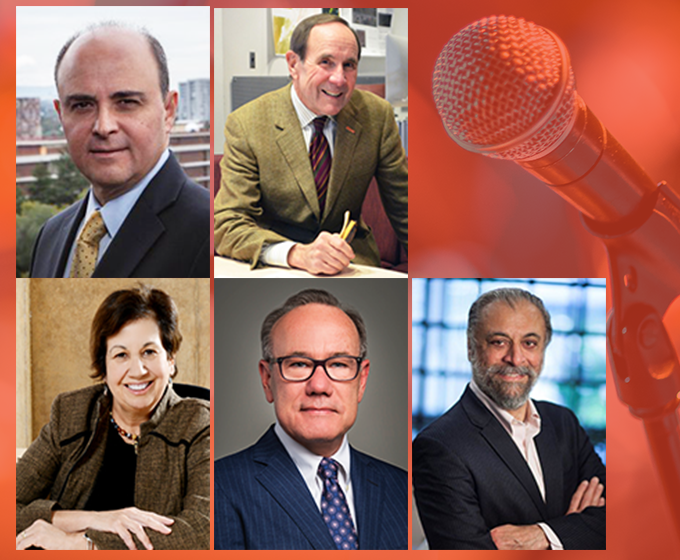 Oct. 31, 2019 — The Academy Fellows Speaker Series at UTSA resumes in November with a new slate of invited National Academies members and other prominent scholars. Presented by the Presidential Task Force on Research Excellence, the series aims to bring renowned academy fellows to present their internationally recognized scholarly work and innovation to the campus community. In turn, faculty, staff and students can engage and share their research passion and expertise. The series began in spring 2019 to mark UTSA's 50th anniversary. 
Becoming a member of a national or international academy solidifies a researcher's scholarly and professional accomplishments, celebrating not only their achievements but also their institution. Speakers represent a variety of disciplines that intersect with research specialties across the UTSA knowledge enterprise. 
"By bringing national academy members to discuss their research specialties and career paths, our goal is to forge new collaborations and alliances, further intellectual discourse and bring different perspectives on familiar and new topics to the UTSA community," said Bernard Arulanandam, vice president for research, economic development and knowledge enterprise at UTSA. "We encourage everyone to come and support this critical series." 
---
⇒ Explore UTSA's Academy Fellows Speaker Series.
⇒ Learn more about the Presidential Task Force on Research Excellence.
---
Sergio M. Alcocer will kick off the series on Nov. 14 at the Downtown Campus with his presentation, The Role of Mexican and U.S. Universities: Societal Fatigue and Frustration in an era of Change. Alcocer is a research professor with the Institute of Engineering at the National Autonomous University of Mexico, a key UTSA research partner. He was inducted in 2017 into the U.S. National Academy of Engineering for improvements to the seismic safety of buildings in developing countries through improved design standards and government policies. 
The former undersecretary for North America in the Ministry of Foreign Affairs of Mexico, Alcocer worked to advance the country's presence in the international arena and strengthen its ties across North America through trade, border infrastructure, investment, and educational and cultural exchanges. He is also founder and president of México Exponencial, a think tank for the development of public policy and strategies for embracing exponential technologies in Mexico. 
From that perspective, Alcocer will speak on the complex relationship between the U.S. and Mexico and the role of universities. He will examine human interaction across the border region, trade and value chain integration, security at large and shared management of ecosystems—all to illustrate the breadth and intensity of the intertwined relationship between our neighboring countries. Adding to that complexity is the convergence of technologies, the media's role on people's perceptions and decisions, society's growing apathy and frustration, disparities in opportunities and development, the accelerating need to compete on the basis of knowledge and the global dynamism that pushes national identities aside. 
His public lecture will highlight the significant role that Mexican and American universities, like UTSA, can play in harnessing common opportunities, to build bridges between our societies, and for developing a region of shared prosperity and social well-being, all supported by education, research and innovation. 
The series will continue with four distinguished scholars in the spring semester [click each speaker's name to expand a description]:
Berrien Moore III
is the dean of the College of Atmospheric and Geographic Sciences, the Chesapeake Energy Corp. Chair in Climate Studies, and the director of the National Weather Center, all at the University of Oklahoma. Moore is an internationally recognized Earth scientist who has been honored by the National Aeronautics and Space Administration and the National Oceanic and Atmospheric Administration. He has published extensively on the global carbon cycle, biogeochemistry, remote sensing, environmental and space policy, and mathematics. He served as the founding executive director of Climate Central, a think-tank dedicated to providing objective and understandable information about climate change. NASA in 2016 selected the Geostationary Carbon Cycle Observatory as the Second Earth Venture Mission, where Moore was the architect and principal investigator on the GeoCarb mission. He is an elected fellow of the American Meteorological Society and the International Academy of Astronautics. His talk,
Geostationary Carbon Cycle Observatory: Unraveling the Carbon-Weather-Climate System,
will be on Feb. 6, 2020.
Vicki L. Ruiz
is the distinguished professor emerita of history and Chicano/Latino studies in the School of Humanities at the University of California, Irvine. Ruiz has focused on U.S. women's history, specializing in Chicana/o studies, Latina history, labor history, immigration studies and history of the American West. She has produced 14 books and edited collections and published over 60 essays. Ruiz has received six book awards, including for
Latinas in the United States: A Historical Encyclopedia, From Out of the Shadows: Mexican Women in Twentieth-Century America
and
Unequal Sisters: A Multicultural Reader in U.S. Women's History.
She was inducted in 2012 into the American Academy of Arts and Sciences. Ruiz was honored in 2015 with a National Humanities Medal in recognition of her achievements in broadening public engagement with U.S. history. She will be visiting UTSA March 23–24, 2020,
leading two workshops focused on paths to tenure and promotion.
Randall W. Poston
is the founding senior principal with Pivot Engineers in Austin. He is also the current president of the American Concrete Institute and a member of the inaugural class of Neil Armstrong Distinguished Visiting Fellows at Purdue University's Lyle School of Civil Engineering. He has extensive experience in using nondestructive techniques to evaluate the extent of corrosion and in identifying structural defects. For the past 25 years he has been a structural engineering consultant engaged in the evaluation, repair, strengthening and design of more than 500 structures. He is an internationally recognized expert in structural engineering and an inductee to the National Academy of Engineering. He will speak April 16, 2020, on
Lessons Learned from Structure Failures.
Inderpal Bhandari is the global chief data officer at IBM. He holds an M.S. in electrical and computer engineering from the University of Massachusetts and a Ph.D. in electrical and computer engineering with a focus in applied artificial intelligence from Carnegie Mellon University. His academic experience has set the foundation for a career spanning more than 20 years in leadership roles at such leading companies as Cambia Health Solutions and Express Scripts/Medco Health Solutions. Data has always been at the heart of his career, from his time at IBM Research to his Advanced Scout program that mined data for the National Basketball Association, running a startup that became an international market leader (Virtual Gold), and being the first chief data officer in health care and later creating the CDO role in four different organizations. Bhandari was recognized in 2017 by his peers as the U.S. Chief Data Officer of the Year and in Corinium's Top 50 Data and Analytics Professionals for the U.S. and Canada. Details for his visit and talk will be announced.