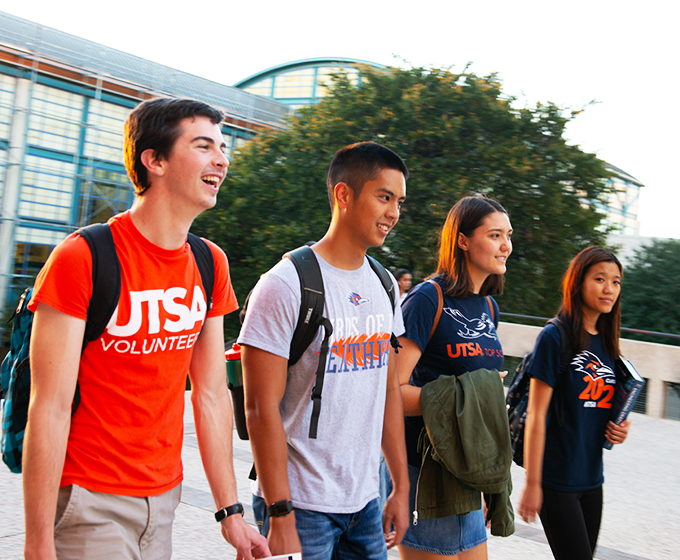 Oct. 21, 2019 — A new area within the Division of Student Success is working to ease the process for students transferring to UTSA. Transfer and Transition Student Success Services collaborates with Strategic Enrollment and the First-Generation and Transfer Student Center to support students transferring from other colleges at every step of the process.
"The goal of Transfer and Transition Student Success Services is to ensure a seamless transition for our students who are transferring from other colleges," said Barbara Smith, senior director. "We want to assist these students to help them feel at home here at UTSA and, ultimately, increase the retention and graduation rates of this population."
⇒ Learn more about UTSA's transfer student advising services.
⇒ Explore Student Success Programs at UTSA.
Transfer students make up a sizable portion of the student population at UTSA, with 41% of the new students arriving at UTSA for the fall 2019 semester being transfer students. Over 11,000 transfer students currently attend the university.
Transfer and Transition Student Success Services, or T²S³ for short, provides resources to help students through every step of the transfer process. Transfer agreements have been made with 18 community colleges, guaranteeing students from those colleges that certain courses will be applied toward their UTSA degrees. Transfer guides are available for each of these colleges, letting the students there know which courses they should take and any special admissions requirements for that major.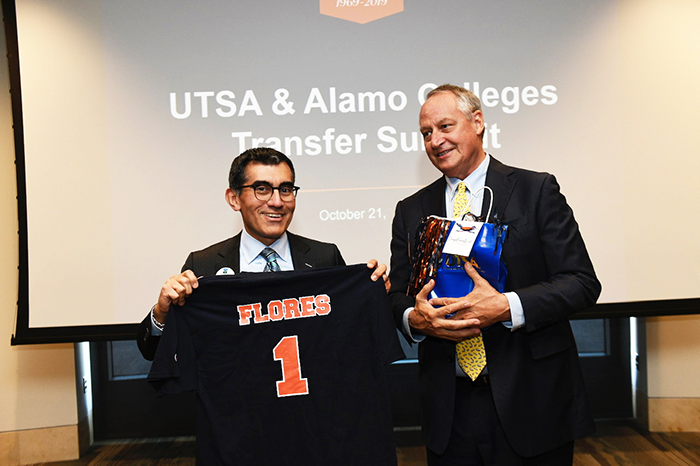 Chancellor Mike Flores of the Alamo Colleges District and UTSA President Taylor Eighmy celebrate the launch of National Transfer Student Week on UTSA's Downtown Campus. The summit on Monday was to give recognition to past collaboration between the two institutions, to discuss present programs and envision future ways to improve the creation of a seamless transition for students transferring to UTSA.
"Over 40% of our undergraduate enrollment consists of transfer students," Eighmy said. "The majority of these students begin their academic journey with our partners at the Alamo Colleges District. We are committed to working with Chancellor Flores and his entire team to continue building strong pathways for our students. We recognize that the success of transfer students is our shared success."
T²S³ works directly with Alamo Colleges on the Alamo On-TRAC and Alamo Runners programs. Alamo On-TRAC (Transitioning Roadrunners at Alamo Colleges) is a program for students who applied to UTSA but may not qualify for automatic admission. These students are able to start taking fall classes at an Alamo College, with spring classes split between Alamo Colleges and UTSA. If they are successful, they can then move into taking full-time classes at UTSA the following fall. Alamo Runners supports students who were admitted to UTSA during a fall or spring semester but instead enrolled at one of the five Alamo Colleges. The program allows these students an easy path to eventually transfer to UTSA.
Transfer and Transition Student Success Services continues to provide support for transfer students once they have been admitted to UTSA. The unit provides special advising specifically tailored toward the needs of transfer students.
"The very first time I went to go meet with my Student Success transfer adviser I was welcomed by all the staff in the room, and I was so overwhelmed with all the support," said transfer student Briana Del Pozo. "My adviser was so kind and helpful! They made me feel welcome, and I knew then that I would have a nice and smooth transition."
In addition to meeting the needs of transfer students, T²S³ will also serve non–degree-seeking students and postbaccalaureate students as well as students who have been academically dismissed and not readmitted. The Student Success transfer advisers meet with this group of students to discuss strategic ways to increase chances to be readmitted to the university.
UTSA will be celebrating Transfer Student Week, Oct. 21–25, with a series of events focused on transfer students, including a Transfer Identity Celebration on Oct. 21 from 11:30 a.m. to 2:30 pm in Sombrilla Plaza on Main Campus. Transfer and Transition Student Success Services will be hosting an open house on Thursday, Oct. 24, 2–4 p.m. Members of the university community are invited to stop by and learn about the unit's work. The office is located in MS 3.02.10, although there are plans to move to the new Student Success Center building when it opens in spring 2020.