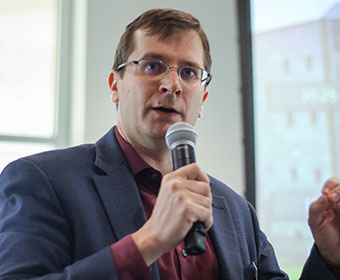 FEBRUARY 12, 2020 — UTSA is among five recipients selected from across the country to receive an award to conduct a 2020 National Endowment for the Arts research laboratory. The $100,000 grant will create the UTSA Arts Entrepreneurship Research Laboratory, which will focus on studying arts incubators to understand the economic potential of artists as entrepreneurs and the impact of the digital divide for arts-based entrepreneurs.
Researchers working in the lab will assess the skills and best practices of arts entrepreneurs. The lab will be under the direction of UTSA assistant professor of music marketing Stan Renard in collaboration with Americans for the Arts. 
Now in their fifth year, NEA research labs investigate the value and impact of the arts through the social and behavioral sciences for the benefit of the arts and non-arts sectors. The labs are housed at different universities and use transdisciplinary research teams to explore specific research questions in the areas of health, cognition and innovation. There are 17 labs in this growing national network.
"I firmly believe that successfully incubating creatives is essential for growing and diversifying our cultural ecosystem," said Renard. "As part of our NEA research lab pilot study, I am looking forward to exploring the best practices that can benefit arts as well as non-arts entrepreneurs." 
---
---
Renard's research focuses on applying computational models to cultural industries. He serves as the assistant director of the Center for Innovation, Technology, and Entrepreneurship (CITE), UTSA's own entrepreneurial incubator. Renard is collaborating with UTSA research specialist Gianluca Zanella, an expert on non-conventional entrepreneurship and tech incubators, to launch the new NEA laboratory. 
"The Department of Music is so proud that Professor Renard's work is getting the recognition it deserves. It's exciting to be chosen as an NEA research lab site and our students stand to benefit the most from Renard's leadership and commitment to his work," said department chair Tracy Cowden, a Roland K. Blumberg endowed professor of music.  "We believe that UTSA's partnership with Americans for the Arts will lead to valuable new scholarship about best practices in arts entrepreneurship and innovation; this is extremely relevant research in a fast-moving economy with tremendous potential in the cultural sector. "
NEA research labs have already advanced several impactful projects including manuscripts and working papers, a virtual research hub to explore arts solutions to burnout and psychological distress in the healthcare professions, and a study of how musical creativity can benefit cognition and social/emotional well-being among adults over the age of 70 and those diagnosed with mild cognitive impairment.