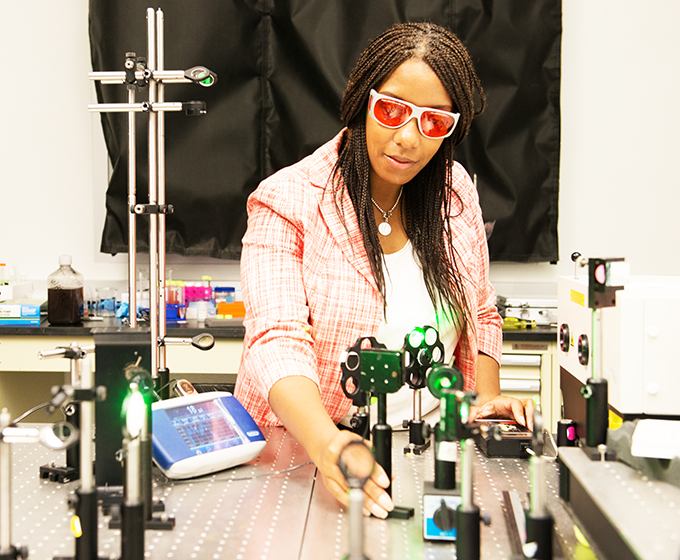 ---
ROADRUNNERS YOU
SHOULD KNOW

---
FEBRUARY 14, 2020 — Kelly Nash '09 understands planning for a bold future. The fact that fewer than 100 African American women in the U.S. held Ph.Ds. in physics at the time she decided to pursue her passion did not hold her back. 
Now, this UTSA physicist, associate professor and alumna wants to make sure she inspires other black young women to do the same. 
She advises all to follow their passions. "Don't be afraid to pursue a major because there is no one that looks like you in that field," she said. "In fact, Black History Month reminds us of all the African American women who challenged the status quo and chose to be trailblazers from education to the arts to science and engineering." 
---
"Don't be afraid to pursue a major because there is no one that looks like you in that field."
—KELLY NASH, Associate Professor in the Department of Physics
---
---
Next, Nash recommended that before a student selects a field of study to take time and define what personal success means to the individual. Finally, she said, "The complex identity of being both black and a woman gets amplified in the classroom, workplace and often in daily life. You have to combat the negative effects by focusing on self-love and remembering that what you have to say and contribute matters just as much as anyone else in the room." 
In May, Nash will finish her three-year term as an officer for the American Physical Society's Conferences for Undergraduate Women in Physics. "This has been such a rewarding experience," she said, "and I have had the pleasure to support programming that is truly making a difference in the lives of young people. Every year the experience of the conferences where I have been able to share my journey of both struggles and successes has provided interaction with so many undergraduate women in physics from such diverse backgrounds. They have inspired me more than ever to be an advocate for underrepresented groups in science." 
---
⇒ Read an interview with Kelly Nash in UTSA's Sombrilla Magazine. 
---
When asked about the significance of Black History Month, Nash responded, "Black History Month is important because it is a time to reflect on the immense societal contributions of African Americans and to share that message with peoples from all backgrounds. On a more personal level, I think it's a time for all African Americans to reflect on the shared journey of perseverance and the progress of people from across the African diaspora and how it is reflected in our own personal family history." 
Nash continues to make a difference at UTSA, working in the Department of Physics with undergraduate students and conducting research to discover how nanomaterials interact with cell and molecular biology.