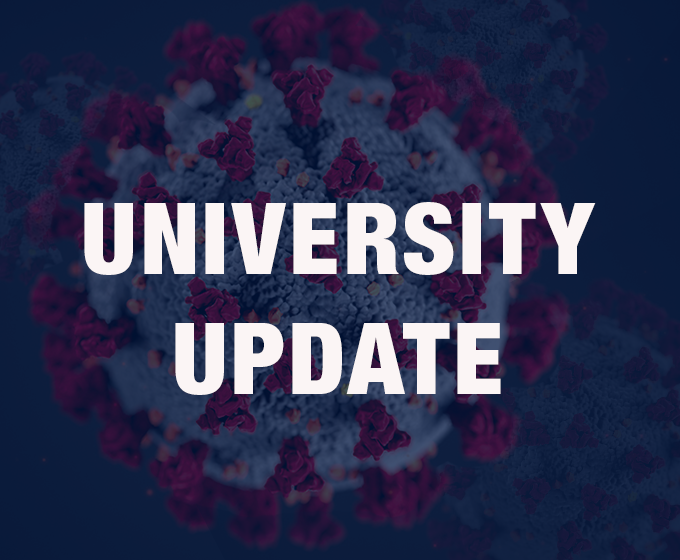 MAY 22, 2020 — UTSA is committed to supporting the university community during remote learning and operations. Here is your latest digest of university news and tips. 
---

GIDDY WITH PRIDE!

O Roadrunner Nation, spring 2020 was a rowdy semester for us. Half way through, we faced an unprecedented shift in our routines, but we all wanted to ensure that the members of the Class of 2020 would make it to their goal. And now they have. 
Ahead of this weekend's virtual celebration, President Taylor Eighmy and (fittingly rowdy) new first pup Fiona send a message of thanks and encouragement to graduating 'Runners, and we share it with you.
---
COMMUNITY NEWS

---
'RUNNERS ON PARADE: In addition to this weekend's celebration, today UTSA kicks off a new tradition: Commencement Drive. The university's graduating students will participate in a nostalgic parade around Main Campus, honking their car horns and cheering to the completion of their collegiate experience. And further honoring each #UTSAGrad20:
Catch the Alumni Association's Virtual Grad Bash on May 28 at 8 p.m.
Get stickers from UTSA's GIPHY channel and Facebook frames from the Alumni Association to help celebrate.
Watch for the Monument Lights and H-E-B Student Union tower to shine blue and white for the Class of 2020 for 20 days.
---
LIBRARY RETURNS EXTENDED: If you still need to return books and other materials, the UTSA Libraries have extended the special returns process at the second-floor entrance to the John Peace Library for two additional weekends. 
---
SHARE YOUR FEEDBACK: Academic Innovation would like to hear from faculty about your experience with remote teaching so the team can improve resources and strategies for the summer session. If you haven't already, please complete the Faculty Remote Teaching Experience Survey by May 26.
---
VIRTUAL EVENTS

---
| | |
| --- | --- |
| HEAR THE EXPERTS: UTSA's popular Community Conversations series continues next week with Reimagining the Future of the Arts. An expert panel will explore the ways in which arts organizations and educators can present, perform and teach music and visual arts in a time when we are unable to gather together. | |