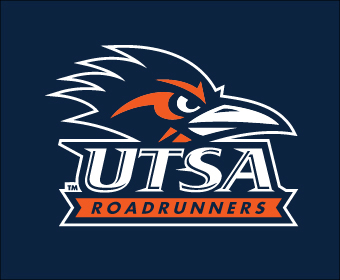 MAY 20, 2020 — The NCAA this week unveiled the latest Academic Progress Rate data, and UTSA Athletics once again reported figures that received national recognition and rank at or near the top of Conference USA.
Five UTSA programs—men's basketball, men's golf, women's golf, women's tennis and volleyball—recorded a perfect 1,000 APR, while a total of 11 sports registered an APR figure of 960 or better for the 2018–2019 academic year.
Last week three UTSA programs received NCAA Public Recognition Awards for having multiyear rates in the top 10% nationally in their sport. The men's golf, women's golf and volleyball programs all achieved a perfect multiyear rate of 1,000. Men's golf and volleyball were honored for the fourth consecutive year, while women's golf received the award for the third straight year and fourth time overall.
Those three programs also rank at the top of C-USA in their respective sports for multiyear APR. Three additional UTSA programs also boast a multiyear APR figure that stands in the top five in the league: men's track & field (972) is third, while women's basketball (986) and men's cross country (986) both rank fifth.
---
Five UTSA programs—men's basketball, men's golf, women's golf, women's tennis and volleyball—recorded a perfect 1,000 APR.
---
---
The men's golf, women's golf and volleyball programs also rank first in multiyear APR scores among NCAA Division I schools in Texas. UTSA boasts eight total programs that rank in that top 10, including six in the top five.
UTSA saw a total of 12 programs record a multiyear APR of 960 or better, with eight sports owning at least a 975 multiyear APR.
The APR is an annual scorecard of academic achievement calculated for all Division I sports teams. The APR provides a real-time look at a team's academic success each semester by tracking the academic progress of each student-athlete on scholarship. It measures eligibility, graduation and retention each semester or academic term and provides a clear picture of the academic performance for each team in every sport. The multiyear rates are based on scores from the 2015–2016, 2016–2017, 2017–2018 and 2018–2019 academic years.
The high marks are not limited to UTSA's APR figures. Last fall UTSA recorded a Graduation Success Rate of 82%, marking the fourth straight year with a GSR of 80% or better. UTSA has earned a GSR of 82% in each of the past two reports and that follows an increase in its GSR for the five prior reports, since it climbed from 66% to three straight years of 80% or better. UTSA also posted a GSR above the NCAA average in seven sports in the most recent report.
---
---
Some notable facts based on the public release of the latest APR data:
UTSA received three NCAA Public Recognition Awards this year and now has received 16 in the past five reporting periods.
UTSA earned the third most NCAA Public Recognition Awards among NCAA Division I Texas schools this year.
UTSA led Conference USA in multiyear APR in three different sports, the fifth straight year it has placed multiple programs at the top of the league list in their respective sports.
UTSA ranked in the top five among C-USA schools for multiyear APR in six sports.
Three UTSA programs led all Division I schools in Texas in multiyear APR.
Eight UTSA sports are ranked in the top 10 and six are in the top five among D-I schools in Texas for multiyear APR.
For the seventh consecutive year no UTSA sports are subject to postseason penalties.