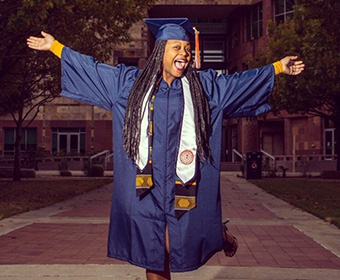 MAY 22, 2020 — After years of hard work, study and research—and a few months of distance learning while enduring an unprecedented pandemic—4,984 Roadrunners will celebrate earning their degrees during the Commencement Drive today and a virtual commencement celebration this weekend.
Of the graduating spring and summer classes, 3,949 students will be receiving their bachelor's degrees, 938 are obtaining master's degrees and 97 will earn doctoral degrees.
More than half of the students honored during Commencement this weekend will be graduates of either the College of Liberal and Fine Arts (1,310) or the College of Business (1,308). COLFA leads all UTSA colleges in undergraduate students earning their bachelor's degrees (1,217), while COB leads the way in master's degree recipients (353). More than half of the doctoral degree earners will come from either the College of Education and Human Development (28) or the College of Engineering (27).
Here are the number of graduates in UTSA's Class of 2020 by each college:
College of Architecture, Construction and Planning: 114 bachelor's, 29 master's
College of Business: 943 bachelor's, 353 master's, 12 doctoral
College of Education and Human Development: 549 bachelor's, 231 master's, 28 doctoral
College of Engineering: 304 bachelor's, 59 master's, 27 doctoral
College of Liberal and Fine Arts: 1,217 bachelor's, 86 master's, 7 doctoral
College of Public Policy: 222 bachelor's, 99 master's, 6 doctoral
College of Sciences: 486 bachelor's, 81 master's, 17 doctoral
University College: 114 bachelor's
UTSA offers 60 undergraduate areas of study that are spread across the eight different colleges. The university also offers 69 master's and 25 doctoral degree programs. These were the five most popular areas of study among the Class of 2020 at each degree level:
Bachelor's: psychology, kinesiology, cybersecurity, criminal justice, biology
Master's: business, data analytics, clinical mental health counseling, accounting, social work
Doctoral: electrical engineering, mechanical engineering, interdisciplinary learning and teaching, educational leadership, anthropology
The university's alumni network will exceed more than 140,000 Roadrunners, including this spring's graduating class. They represent UTSA's dedication to being a model for student success.
Data for this article was compiled by the university's Office of Institutional Research. For more facts and figures, visit the UTSA Institutional Research.