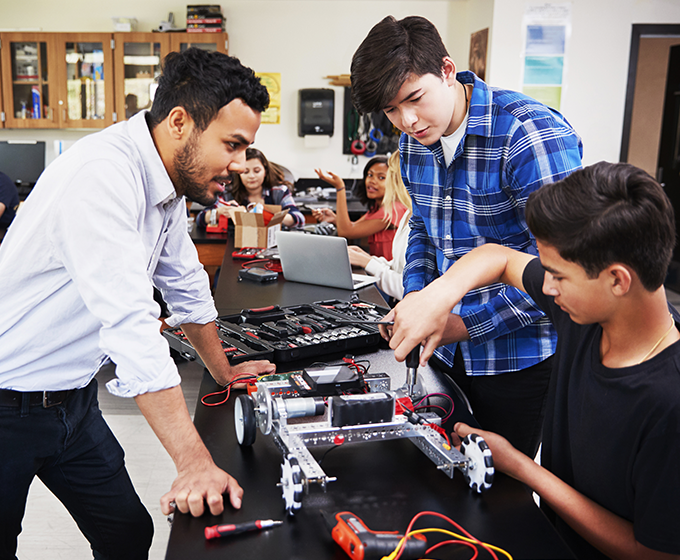 JULY 22, 2020 — UTSA and the San Antonio Independent School District have signed a five-year memorandum of understanding that will provide high-achieving SAISD students and alumni with a tuition-free pathway to pursue their bachelor's degrees. About 200 students are expected to participate in the program annually, improving college completion rates within San Antonio's first-generation and low-income communities.
To help the students focus on their academics, UTSA will award full-tuition packages to SAISD graduates in the top half of their graduating classe. The university will cover their cost of tuition using financial aid available from state and federal sources, excluding loans. Any difference will be covered by existing institutional sources that are designated for financial aid.
"There are so many talented students right here in San Antonio who dream of earning their degrees but do not have the financial means to do so," said UTSA Provost and Senior Vice President for Academic Affairs Kimberly Andrews Espy. "This important partnership with SAISD will help us better reach these hard-working students, particularly students in low-income and first-generation families, and provide them with the opportunity to earn their degrees and launch their careers."
---
"This important partnership with SAISD will help us better reach these hard-working students."
---
---
UTSA is a top choice school for SAISD students. More than 600 students from the SAISD class of 2019 applied for admission to UTSA. About 450 were admitted and 210 of those enrolled at the university.
To increase these admission and matriculation rates, UTSA will direct fall application outreach efforts toward SAISD students and alumni, assign recruiters to SAISD applicants and provide the district with access to the names and contact information of SAISD students and alumni who apply to and enroll at UTSA. It will also more deeply educate SAISD counselors and advisers about its various student success and retention initiatives to support first-generation college students and students from low-income families.
At the same time SAISD will promote UTSA as an attractive higher education option to its high school students and their families. It will also work within its schools to provide UTSA with access to recruit students who are a match and fit for the university and to connect with those who declare an interest for UTSA. At districtwide college fairs it will place UTSA in a high-traffic location.
---
---
The first cohort of students will matriculate to UTSA in fall 2021.
"Last year, we introduced our Bold Promise program, which provides a tuition-free pathway for highly qualified Texas residents from low- and middle-income families," said Lynn Barnes, senior vice provost for strategic enrollment at UTSA. "Through this agreement with SAISD, we are deepening our commitment to make higher education affordable and accessible. For so many San Antonians, this will be a life-changing opportunity to build an exciting career."
UTSA and SAISD currently have a series of student success programs underway, including dual-credit programs, specialty career pathways and college-prep support activities, such as test prep, senior essay writing and college exploration.