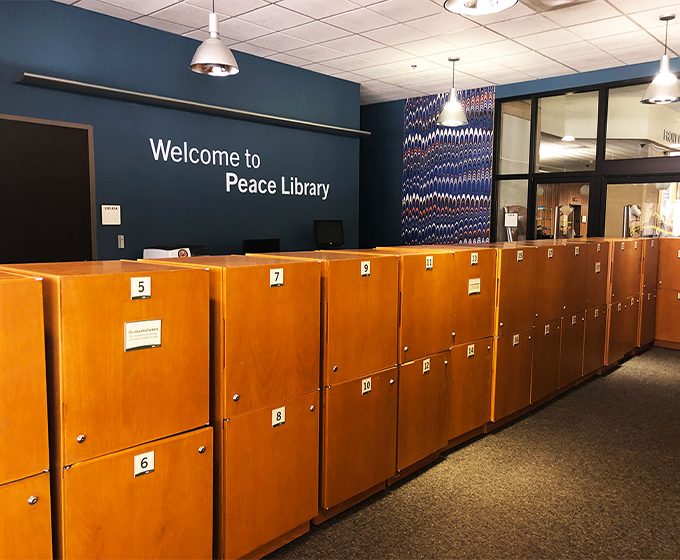 AUGUST 18, 2020 — Starting the first day of classes for the new fall semester—Monday, August 24—students, faculty and staff can request library books and physical materials using a contactless delivery service through the UTSA Libraries' Get It for Me system.
"We want to provide as much access to our physical materials while maintaining proper safety protocols for borrowing," said Adam Zaby, head of library access services. "This system allows for contactless delivery, and it keeps both our patrons and our staff safe."
Options for pickup of materials are:
Curbside delivery at Main Campus or Downtown Campus,
Delivery to a locker outside the John Peace Library or the Downtown Library, or
Delivery to a home address via mail (reserved for people living outside Bexar County).
Curbside delivery services will be available weekdays from noon to 4 p.m. on both campuses.
For delivery to Main Campus, patrons are asked to park near the Business Building drop-off area near the outdoor book return. For the Downtown Campus, delivery will be available at the Frio Street drop-off area near the outdoor book return. Signs will display instructions for paging library staff upon arrival.
---
"Our priority is keeping everyone safe while providing our source material for student and faculty research."
---
---
If selecting locker delivery, users will receive locker numbers, lock combinations and date of availability via email once a request is fulfilled.
Lockers on Main Campus are located in the lobby of the second floor entrance to the John Peace Library. Downtown Campus users can access lockers immediately outside the entrance to the Downtown Library. Patrons will have three days to pick up requested materials.
"This system will require lots of patience and preplanning on the part of both library staff and library users," Zaby said. "Our priority is keeping everyone safe while providing our source material for student and faculty research."
Dean Hendrix, dean of UTSA Libraries, said the service will help provide a full library experience both for students on campus and for those learning remotely.
"Our commitment to provide resources to the campus community remains our top priority for reopening" he said. "We want students and faculty to know that we will continue to provide access to library material both digitally and physically to ensure academic success."
Electronic delivery will continue to be available for students, faculty and staff who wish to receive materials online. If a requested book or article is available in electronic form, library staff will send it directly to a user's email inbox.
---
⇒ Or request items directly from the Library Quick Search through the Get It for Me link.
---
For initial phases of contactless delivery, the mail-to-home option will serve those who live outside Bexar County exclusively. When selecting this option, users will need to provide address information on the request form and materials will be sent via the U.S. Postal Service.
Reopening of the UTSA Libraries for fall 2020 includes updated hours for both the John Peace Library and the Downtown Library.
UTSA Libraries is at the forefront of reimagining the 21st century academic library. With four locations across three campuses, the libraries are fueling UTSA's ascent to a premier public research university by providing students and faculty with seamless, comprehensive access to information and learning resources as well as innovative spaces for active learning and interdisciplinary scholarship.