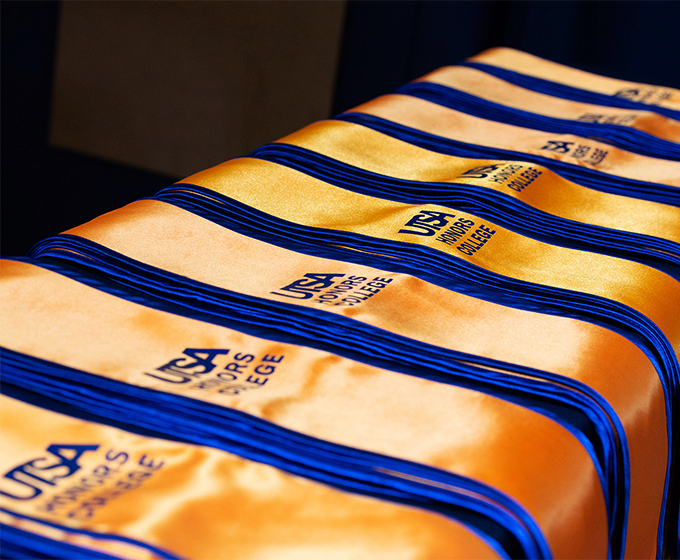 SEPTEMBER 15, 2020 — The UTSA Honors College is taking steps to strategically expand the number of high-achieving students it admits each year, thanks to a new collaborative partnership with the undergraduate recruitment and scholarships office in the Division of Strategic Enrollment.
Beginning in fall 2021, all incoming freshmen awarded a Distinguished Presidential Scholarship will be automatically admitted to the Honors College. The DPS is one of UTSA's most competitive merit-based scholarships awarded to incoming freshmen who display exceptional scholastic achievement in high school. The scholarship is renewable with a value up to $20,000 over four years.
In a typical year, roughly 2,000 incoming students are awarded the DPS, and on average, about 16% choose to join the Honors College. With Honors College enrollment currently at 1,350, automatically admitting DPS scholars has the potential to increase the college's enrollment by 67%.
---
"The honors programming and curriculum students experience at UTSA is already on par with many of our nation's top institutions."
---
---
"We are thrilled to be able to welcome the university's incoming Distinguished Presidential Scholars into our community and guide them along a personalized honors path at UTSA to reach—and exceed—their professional and intellectual goals," said Jill Fleuriet, acting dean of the Honors College.
Honors College students enjoy many benefits, including priority registration, eligibility for honors scholarships, access to competitive funding opportunities, participation in a residential honors experience, networking with top students and employers in the region and beyond, mentoring from special counselors and peer coaches, priority consideration for special programs like Citymester and Legislative Scholars, and participation in uniquely designed experiential courses that encourage them to gain practical skills beyond their majors.
Additionally, first-year students entering the university as Honors College students will live together with other residential honors students in Guadalupe Hall, UTSA's newest residential hall, slated to be completed in summer 2021. With nearly 200 double-occupancy bedrooms, the hall will include study spaces and rooms designed for interaction and collaboration.
Even with a majority of classes offered online this fall, the Honors Residential Community launched as planned with its students living in a dedicated section of Chaparral Village. With honors students expected to occupy the majority of Guadalupe Hall once it opens, the Honors College will activate a vibrant living-learning community as part of becoming a fully residential college.
"The honors programming and curriculum students experience at UTSA is already on par with many of our nation's top institutions," said Kimberly Andrews Espy, provost and senior vice president for academic affairs. "As we work toward elevating UTSA's Honors College to new levels of national prominence, offering a vibrant residential community and competitive scholarship packages will help us better compete for top students. I applaud this collaboration to create an innovative solution that will help more students benefit from the phenomenal experiential learning opportunities the college affords."
---
---
Questions about admission into the Honors College at UTSA? Email honorsadmissions@utsa.edu or visit the Honors College online to connect with the virtual front desk via Zoom. It's available weekdays from 8 a.m. to 5 p.m.
---
The Honors College is home to high-achieving, academically driven students from across all majors and disciplines, including UTSA Top Scholars and Terry Scholars. As the only 100% experiential learning honors college in Texas, its hands-on and project-based approach allows students to chart their own path and achieve their highest potential.