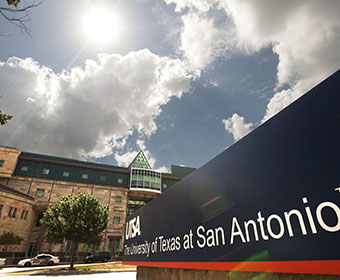 OCTOBER 7, 2020 — Editor's note: The following message was sent today via email from Dean of Students and Senior Vice Provost for Student Affairs LT Robinson and Vice Provost for Student Success Tammy Wyatt to all faculty, staff and students:
The well-being of our entire university community is a top priority as we adapt the ways we learn, live and connect in response to the pandemic. Last spring we gathered information and recommendations from a number of campus forums related to the Enriching Campus Wellbeing Initiative as well as the expert holistic external review of Student Health Services and Counseling & Mental Health Services. Building on the update Provost Espy sent last spring, we share our progress.
Well-being Grants
This week we launch the Wellbeing Mini-Grant opportunity for UTSA faculty and staff. Up to five $1,500 grants will be awarded to UTSA faculty, staff and departments/units for projects to increase awareness, knowledge level and skills around well-being within our campus community.
The faculty/staff grants follow a successful inaugural round of $500 Well-being Mini-Grants that were competitively awarded to 10 student organizations earlier this month. Applications are due on October 15, and we encourage teams to submit their ideas.
Expanded Wellness Services for Students
Further informed by the work of the initiative and expert review, Student Health Services and Counseling and Mental Health Services have been working together to develop a truly integrated college health program, in keeping with national best practices. As a result, the services offered to our students have expanded over the past few months, guided by a comprehensive "360 Wellness" approach. To offer greater continuity of care for our students, we also are on track to implement by the start of the spring semester a common electronic health record system for all students—a critical underlying platform that enables provider collaboration and focus on students' needs.
Additionally, we have added counseling staff and optimized our scheduling systems, increasing the availability of appointments, including drop-in services. Providers in Student Health Services now have begun training to expand their scope of service to treat anxiety, depression and other common behavioral complaints, and Student Health Services will be able to provide medical services for behavioral health issues beginning in January 2021.
Student Health Services

Free provider appointments
Telemedicine appointments
Chronic disease management and behavioral health services

Counseling and Mental Health Services

Therapy sessions by phone or video
Counseling same-day phone consultations
TAO free online self-help platform
Lastly, students now have access to a new online Mental Health and Wellbeing module, which emphasizes the importance of psychological and emotional well-being for student success and offers resources for self-care. Students can access the module on ASAP.Many of these new services are direct outcomes of student input gathered last spring. To collect additional feedback, all UTSA students will receive a comprehensive well-being survey later this month.
Resources for Staff and Faculty
The well-being of all of you—our faculty and staff—is another area of focus. We have several self-help resources that can assist with stress management during these uncertain times:
And as a reminder, you can
get tested for COVID-19 on campus
through UTSA's partnership with Livingston Med Lab. Remember to
self-report
if you have been tested or in direct contact with a COVID-19–positive person.Our thanks go to the initiative's working groups for their hard work and commitment and to the entire campus community for engaging in the well-being surveys and forums. If you have feedback, ideas or want to get more engaged in this effort, please contact us at
wellbeing@utsa.edu
.