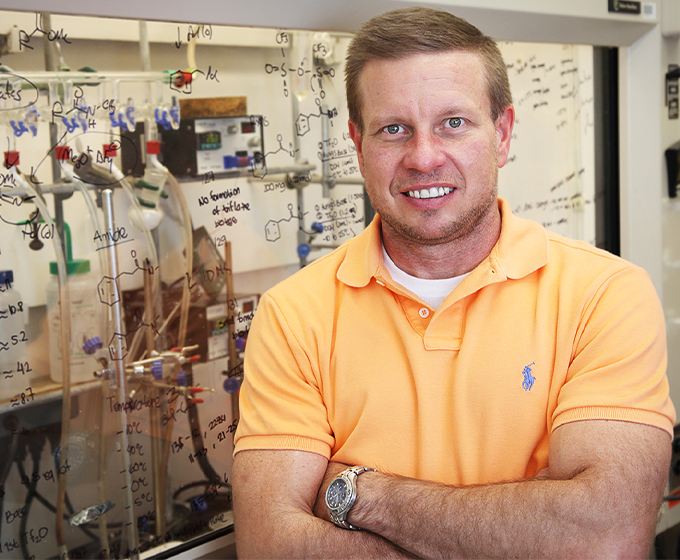 OCTOBER 22, 2020 — As the COVID-19 pandemic continues to cripple countries around the world, scientists are searching for solutions. UTSA's Doug E. Frantz, the Max and Minnie Tomerlin Voelcker Distinguished Professor of Chemistry, has received an award from the San Antonio Medical Foundation to support his collaborative work with UT Health San Antonio and SwRI on a novel approach for COVID-19 drug discovery.
The grant will help fund collaborative studies that combine virology, high-throughput screening, medicinal chemistry and in-silico drug design expertise.
There is currently not an effective treatment for SARS-CoV-2, the causative agent of COVID-19. Frantz and his collaborators have identified a strategy that can target the entry of enveloped viruses, such as SARS-CoV-2, for therapeutic intervention.
---
"We will leverage the expertise of the entire collaborative team to discover and develop new antiviral drugs."
---
---
The team's research targets interactions between viral proteins and host cell proteins. They will exploit the established finding that a protein called clycoprotein-S expressed on the surface of SARS-CoV-2 directly binds to the angiotensin converting enzyme (ACE2) expressed on the surface of lung epithelial host cells. The interaction between the receptor binding domain and ACE2 is required for SAR-CoV-2 to enter cells.
"Through the generous support of the San Antonio Medical Foundation, we will leverage the expertise of the entire collaborative team to discover and develop new antiviral drugs that block SARS-CoV-2 from entering human cells to minimize the impact of COVID-19 on patients," said Frantz.
Over the past decade undergraduate and graduate students in Frantz's lab have designed and synthesized novel small molecular compounds. Frantz in April shipped samples of about 250 of those compounds to collaborators at The University of Texas Medical Branch at Galveston for testing. Cells that were infected with SARS-CoV-2 were pretreated with the compounds designed at UTSA.
The compounds have chemical properties similar to hydroxychloroquine and chloroquine, two immunosuppressive drugs that were previously used to treat and prevent malaria, that have shown promise in reducing effects of COVID-19 in lab studies.
"Our collaborative efforts with Dr. Patricia Aguilar at UTMB Health to repurpose compounds from my lab at UTSA continue to produce exciting results as new potential therapies for not only COVID-19 but other viral infections as well," said Frantz. "We will be publishing our results shortly and plan to pursue additional funding from the NIH to continue this important collaborative work."
---
---
The typical drug development timeline, from initial research to animal testing to clinical trials to FDA approval, is five to eight years. 
"The San Antonio Medical Foundation has supported outstanding research endeavors aimed at advancing biomedical science in our local community for years," Frantz said. "I am truly flattered to be a part of their mission through this award to develop lifesaving antiviral drugs for COVID-19 with our partners here in San Antonio."