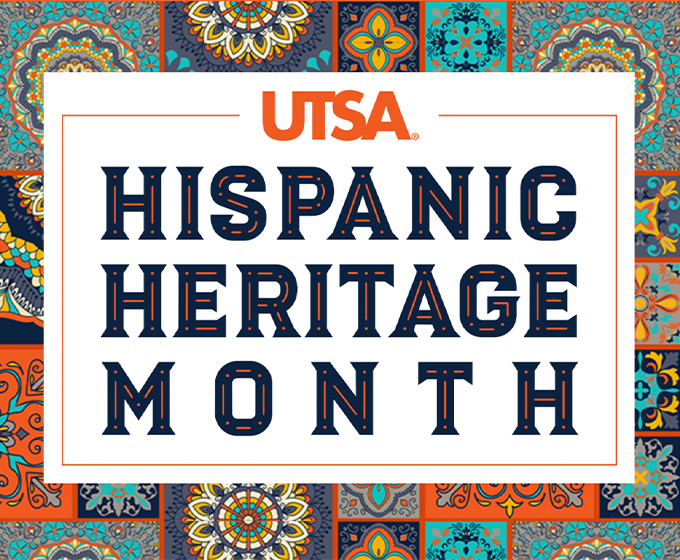 OCTOBER 12, 2020 — From the history and contributions of the Hispanic community to their strength and resiliency, for the next month the Hispanic community is being recognized as part of National Hispanic Heritage Month.
UTSA this week wraps up its series of events in observation of National Hispanic Heritage Month, themed "Voces de Resistencia / Visions of Resilience."
Since its inception, UTSA has embraced its Hispanic serving identity. Ranked third in Texas for Hispanic student enrollment, UTSA has a student body that 57% of whom identify as Hispanic or Latino. UTSA has been certified by Excelencia in Education with the prestigious Seal of Excelencia, recognizing the university's commitment and ability to accelerate Latino student success.
The certification adds momentum to UTSA's journey to become a Hispanic thriving institution, a model Hispanic Serving Institution that provides the highest quality education to advance social mobility and economic opportunities for Latino students and their communities.
---
---

This Week's Events Focus: Culture


Rudy Treviño Art Showing and Panel Discussion
Monday, October 12, 2:30 p.m.
In the 1970s a cadre of student artists left their mark on the Lanier High School campus by painting murals that reflect a period of Mexican American history. Symbols of self-identify, eagles, marches, images of the historic neighborhood's political leadership were emerging, embodying a new political awareness and upheaval. Rudy Treviño was the leader of the commercial art classes at Lanier High School in the 70s, and this virtual art exhibit will look at work both past and present of some of these former students. Artists and former Lanier students, Juan Hernandez and Marcelino Villanueva will join the conversation. 
Latinos Who Served: A conversation with UTSA's Veteran Community
Tuesday, October 13, noon
Join us as we bring together Latinx veterans from the UTSA community; students, faculty, staff and alumni to discuss their time in the military, transitions, educational and professional journeys. Latinx veterans proudly served their country, but it is not always easy being from an underrepresented group in the military. 
UTSA Racial Justice Book Club
Wednesday, October 14, 2 p.m.
In observance of Hispanic Heritage Month, the book for this month will explore issues of Latinx identity, diversity, equity, student success and social justice. The club will be reading Redeeming La Raza: Transborder Modernity, Race, Respectability, and Rights by UTSA professor Gabriela González. 
University Relations Speakers Series: Urban Connectivity – Cultural Awareness & Pride: Zona Cultural & Market Square
Wednesday, October 14, 4 p.m.
This panel will explore San Antonio's Zona Cultural and Historic Market Square, while engaging with an influential leader from the Center City Development and Operations Department. 
Tertulia Talks with UTSA Faculty
Thursday, October 15, noon
Panelists include Jackie Cuevas, Borderlandia; Arturo Almeida, UTSA Art Collection; Sonya Alemán, and Marco Cervantes. 
University Relations Speakers Series: Placemaking and Public Art
Thursday, October 15, 4 p.m.
The panel will include Veronica Rippel.