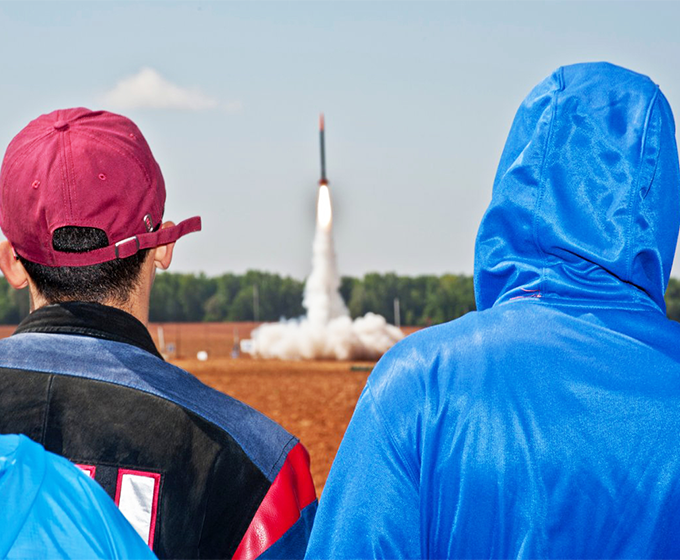 OCTOBER 15, 2020 — A team of UTSA students has the right stuff, having been selected by NASA to compete in a prestigious rocket building competition. The NASA Student Launch is an eight-month challenge managed by NASA's Marshall Space Flight Center in Huntsville, Alabama.
UTSA was one of 32 U.S. universities and colleges selected for the 2021 challenge.
Student Launch gives aspiring rocketeers a unique opportunity to follow the design process that NASA and industry engineers use when developing and operating new hardware. According to NASA, the student teams are required to design, build, test and fly a payload and high-powered amateur rocket to an altitude of 3,500 to 5,500 feet.
---
"This is really a challenge, and they'll learn a lot on how to be a team."
---
---
This year the college/university division teams will tackle a brand new payload challenge. The rocket design will include a lander deployed during the rocket's descent. This device must leave the rocket at an altitude of 500 to 1,000 feet above ground and then land, upright itself and level itself. But that's not all; the lander must take a 360-degree panoramic photo and transmit it to its team.
UTSA fielded a rocket team in 2019 comprised of mechanical engineering majors. This year the  Center for Advanced Measurements in Extreme Environments opened it up to a broader group. The first rocketry meeting had over 30 students. After learning more about the project and time commitments, that group narrowed down to eight students, who are a mix of various majors from the colleges of Sciences and Engineering. They're volunteers for this project and don't receive a grade or credit for being part of the team.
"Most of them have no idea about this field. They just showed great enthusiasm about NASA and rocketry, and it's very exciting to have them involved," said Hongjie Xie, CAMEE director and professor and chair of the Department of Geological Sciences.
Their first challenge was developing a detailed project proposal in a short turnaround time that included their engineering design approach, timeline and budget. The Student Launch team will have until April 10, 2021, to complete their mission.
"They'll have to learn most everything about rocketry from scratch, said Xie. "This is really a challenge, and they'll learn a lot on how to be a team."
With a busy college schedule, why sign up for a demanding extracurricular activity? For Student Launch team lead Dillon Emmele, this opportunity through UTSA is a great fit. Emmele also works full-time, and the rocketry project gives him valuable hands-on experience without having to make the time commitment for a longer internship or a research project.
"I was drawn because it puts the students in control of how we do things, while still having full support from the university," he said. "This project will help me learn how to lead a team more than I'm used to at work. Another huge benefit is it allows me to connect with the STEM community, which was difficult for me before. I even have a few contacts at NASA now."
And Xie is hopeful this experience will inspire others on Student Launch to pursue STEM fields—science, technology, engineering and mathematics—in postgraduate studies or through careers in the industry.
"This project will open their eyes to the opportunities available to them and to possibly get involved with NASA," said Xie.
In addition to Emmele, the Student Launch team is made of up of Carolyn Alvarado, Kate Benoit, Evelyn Fernandez, Madeline Hickman, Jasmyn Johnson, Adolfo Santa Fe Duenas and Daniel Wood.
The faculty team includes Jaime Hincapie, lecturer and faculty adviser in the geological sciences department and Christopher Combs, an assistant professor of mechanical engineering. The mentor is Don Cosgrove of the San Antonio Rocket Society. Both Hincapie and Cosgrove are certified in high-power rocketry by the Tripoli Rocketry Association.
The NASA Student Launch project is being funded by NASA MIRO CAMEE, the College of Engineering Student Success Center and the College of Sciences Student Success Center.