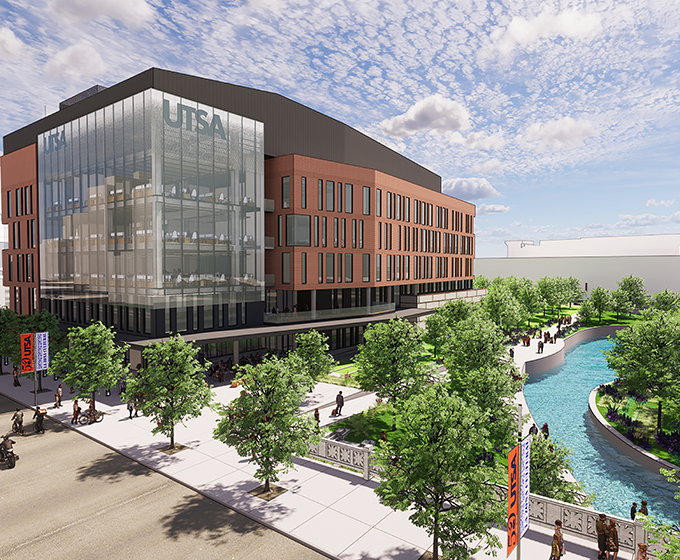 NOVEMBER 6, 2020 — UTSA is making significant progress toward the vivid expansion of its Downtown Campus in the final months of 2020.
Not only does the university expect to break ground on the $90 million School of Data Science and National Security Collaboration Center in the coming weeks, but a former jail is also being demolished to make way for a proposed $161.2 million Innovation, Entrepreneurship and Careers Building. These two major initiatives will anchor UTSA to San Antonio's prospering high-tech corridor and serve as a catalyst for economic and community investment in the San Pedro Creek area.
"These projects will set UTSA and San Antonio apart as pioneers in data science and cybersecurity, provide innovative solutions for government and industry, and better meet the city's escalating workforce needs," President Taylor Eighmy said.
The 167,000-square-foot School of Data Science and National Security Collaboration Center will be erected along Dolorosa Street abutting San Pedro Creek east of Interstate 35. The university expects to receive design development approval from the UT System Board of Regents by mid-November and kick off construction in mid-December. The anticipated completion date for construction is July 2022.
---
"These projects will set UTSA and San Antonio apart as pioneers in data science and cybersecurity."
---
---
The new facility will house the School of Data Science, including 85,725 square feet of classroom, laboratory and research space. The new school will place UTSA's 70-plus faculty members in cybersecurity, cloud computing, data and analytics, and artificial intelligence under one roof in the heart of San Antonio to provide government, industry and community partners access to UTSA's nationally recognized programs and talent. UTSA's departments of Computer Science, Computer Engineering, Statistics and Data Sciences, Information Systems and Cyber Security, and the Open Cloud Institute will call the new facility home.
The building will also include 81,500 square feet of innovation space, laboratories and research facilities for the National Security Collaboration Center—a hub for government, university and industry partners in the cybersecurity field. The Cybersecurity Manufacturing Innovation Institute will have a home in the space, as well as various collaborative efforts in forensics; visualization and analytics; network security, cyber training and workforce development; big data analytics and privacy; postquantum cryptography, cyber-physical systems and embedded security; cloud security; attack and threat modeling and mitigation; machine learning and artificial intelligence; and platform, software and hardware integrity.
The new building will serve community functions as well. The center will house a ground-level café, in addition to a large multipurpose space for students and partner tenants that can be made available for public events.
"The design development package was issued in October, and the CD package will be issued in a phased approach to allow us to begin site work and excavation beginning in mid-December," explained Corrina Green, director of major capital projects and real estate for UTSA. "We are planning a virtual groundbreaking ceremony for December, and we are excited to celebrate all the hard work leading up to the start of construction for this significant project." She added that archeological investigations began last week.
Just across the creek to the west, demolition of a former county and federal jail building is underway to clear space for the UTSA Innovation, Entrepreneurship and Careers Building, a planned expansion of the College of Business. Bexar County is demolishing the abandoned facility as part of an understanding that UTSA will purchase the land in 2022.
UTSA is making a concerted effort to expand its nationally ranked business education programs and programming in the downtown area through a state-of-the-art IEC Building. This development project will leverage the broad opportunities that exist in San Antonio, allowing UTSA to address San Antonio's pressing workforce needs, connect UTSA students with experiential learning and career-engagement opportunities, and address the College of Business' current and future academic space shortage.
A construction date has yet to be determined because university officials are still in the initial fundraising and planning phases for the proposed 250,000-square-foot IEC Building. However, UTSA anticipates the new facility will be completed and operational by 2025.
"We are looking to begin programming and preliminary design early next year to validate our anticipated project costs," Green said. "Once we have direction on our funding sources, we plan to hit the ground running to move into full design efforts immediately and hope to begin construction in early 2023."
These developments are part of the first phase of a 10-year plan to expand the footprint of UTSA's Downtown Campus, which includes academic programs in the College of Architecture, Construction and Planning; the College for Health, Community and Policy; and the College of Education and Human Development.