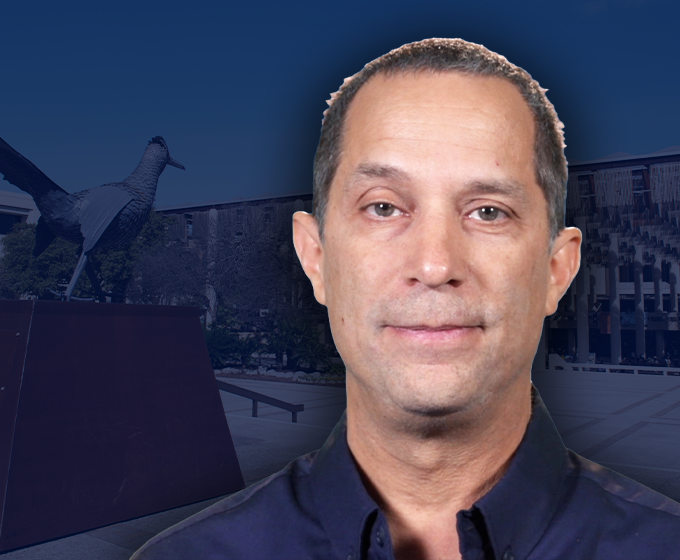 NOVEMBER 4, 2020 — H. Paul LeBlanc III, a professor and chair of the Department of Communication, is the first UTSA faculty member to have a course certified through Quality Matters, a nationally recognized peer-review process that champions the pursuit of excellence through the collaborative development and certification of high-quality online courses. This prestigious designation is a result of LeBlanc's commitment to creating learning environments that offer clear pathways to success and sets the standard for the future of online courses at UTSA. 
The course, Conduct of Communication Inquiry, has undergone a considerable transformation from its initial in-person format. LeBlanc began teaching the course in person at the start of his career with UTSA in 2001. In 2015 he initiated the process of converting the course to an online platform. 
---
The QM process clarified the relationship between what students do in class and how they achieve [the] course's learning objectives.
---
---
Through the help of the Office of Digital Learning's senior instructional designer, Mayra Collins, and instructional development specialist, Michael Brand, LeBlanc was able to build modules and create a software tool for the course. Consequently, the software, called StatTree, caught the eye of UTSA's Office of Commercialization and Innovation, which led to LeBlanc receiving a National Science Foundation Innovation Corps grant and recognition at the 2019 UTSA Innovation Awards ceremony.
When LeBlanc decided to take the next step in his course's evolution and certify it through QM, he consulted with Kevin L. Williams, an instructional designer who serves as UTSA's Quality Matters coordinator in the Office of Digital Learning.
"The Quality Matters official review provided the opportunity to reflect on this course and examine it from the learner perspective," said Williams. "Every element in the course, from accessibility to learner engagement to assessments, was examined using internationally recognized standards and Universal Design for Learning best practices to critique critical course components related to the learner experience—and ultimately learner success."
The QM process is designed to be collaborative and collegial, focusing on how well the course is designed and what areas could be further developed, with the intent that all courses will meet at least 85% of the QM rubric standards and all essential standards.
When a course is recognized by QM, the course can be advertised with the QM certification mark, an internationally recognized symbol for online and blended courses that have achieved high-quality design. LeBlanc's Conduct of Communication Inquiry is now listed on the QM directory of certified courses and will be included in the online B.A. in communication degree program beginning spring 2021.
The ultimate aim of incorporating QM into the UTSA enterprise is not just to certify quality in online course design but to encourage all faculty to utilize QM standards to advance their courses.
UTSA started its membership with Quality Matters in the summer of 2019. With the onset of the pandemic, quality and accessibility for online courses became an even greater priority. The institution, through the division of Academic Innovation, implemented several strategies to help faculty integrate quality elements in their courses and focus on instructor presence and student engagement.
"Our goal is to support student and faculty success," said Melissa Vito, vice provost for academic innovation. "Quality Matters is a valid resource for the development, evaluation and continuous improvement of online education and has proved to enhance the competitive potential of UTSA courses and programs."
Williams offers a variety of QM training and self-review resources outside of the certification process, democratizing the ability to improve online course design and establishing a culture of quality as UTSA strives to be a model for student success.
From May to October of this year the division of Academic Innovation covered the cost of UTSA instructors' participation in a two-week Applying the Quality Matters Rubric course. Over 180 faculty completed the course, with an additional 170-plus performing self-reviews of their existing courses. Additionally, Academic Affairs has offered stipends to support UTSA instructional faculty during the summer and fall in building online courses using Quality Matters standards.
"Excellence is a core value at UTSA, so I encourage faculty to incorporate QM standards and consider a self-review for continuous improvement," said Williams.
For LeBlanc, the QM process clarified the relationship between what students do in class and how they achieve his course's learning objectives.
"I've been behind a podium for all these years. You get feedback from time to time but never in a concerted way," said LeBlanc. "QM was helpful in getting an outside perspective on what makes a course student-centered." 
---
EXPLORE FURTHER
---
Discover Quality Matters and look into upcoming workshops and the process for course certification, self-review or becoming a peer reviewer, contact Kevin L. Williams at QualityMatters@utsa.edu.
---
Celine McLaughlin, a student from LeBlanc's fall 2020 Conduct of Communication Inquiry class, appreciates the changes LeBlanc has made to his course and sees improvement in her learning experience.
"I've taken many online courses and I could tell that Dr. LeBlanc spent a lot of time streamlining this course to make it more conducive to online learning," said McLaughlin. "Online learning requires a strong presence on behalf of instructor and student alike to accomplish the goal of learning. I feel strongly that Dr. LeBlanc did that for me."