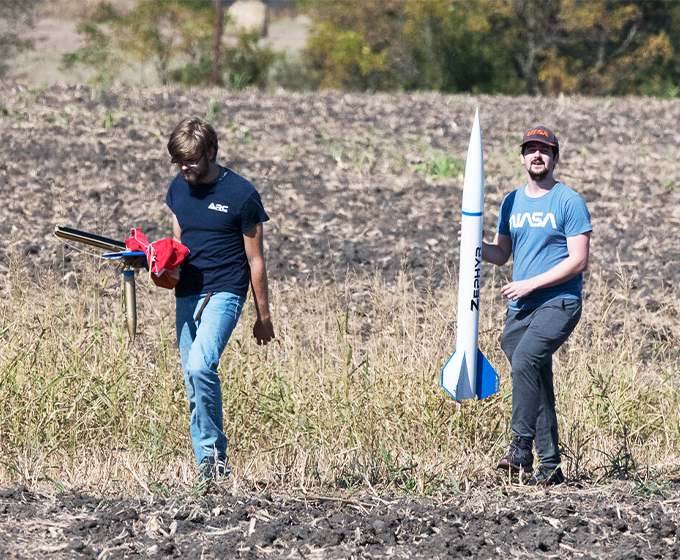 NOVEMBER 17, 2020 — UTSA has another group of students competing in a prestigious rocket competition. The announcement comes as SpaceX and NASA made history this past week by partnering to send its first operational crew mission into space. The entrepreneurial spirit of private aerospace companies, such as SpaceX, are inspiring the next aerospace professionals. Some will likely be UTSA grads who benefited from the university's Classroom to Career initiative.
The Aeronautics and Rocketry Club will compete in the Spaceport America Cup competition, known as the largest intercollegiate rocket engineering competition. This is first the UTSA team competing in Spaceport and were able to qualify, as a new entry, for the 10,000 commercial off the shelf class, which is rare for a first-year team to get accepted to Spaceport America Cup with a two-stage design.
"Teams participating for the first time don't usually get accepted in the two-stage category, so we're pretty proud of this accomplishment," said Adam Knippa, club president and mechanical engineering major."
---
"Teams participating for the first time don't usually get accepted in the two-stage category, so we're pretty proud."
---
---
Rocketry classes aren't currently offered at UTSA. Most club members participated in the NASA Student Launch program, prior to it being sponsored through the Center for Advanced Measurements in Extreme Environments, and leverage that experience for the Spaceport competition.
UTSA professors and outside sources with vast industry experience serve as mentors to the rocketry students. Building a rocket is a face-to-face project but during the pandemic, the club's members, like other students, will have to complete most of the project through online collaborations.
"We use a software program called Open Rocket for the design and can share files and then record all the changes within our internal database, said Knippa. "It is going to be a definite challenge once it comes time to actually physically assemble the launch vehicle. However, we still have access to our on-campus lab, with certain restrictions due to COVID."
These are mere obstacles in the way of gaining experience in a field that is their future. Some Aeronautics and Rocketry Club members may go on to do rocket-related work with NASA. Others are interested in pursuing careers with emerging companies in aerospace.
"All these new companies are exciting to me personally because they're challenging the status quo from Boeing, NASA and other older corporations," said Patrick Cavanagh, club vice president and computer engineering major. "All of a sudden you have SpaceX doing things that 10 years ago people said were impossible, and that in itself is really exciting. It seems like it's pushing the technological advancement a lot faster."
There's also an emerging aerospace industry in San Antonio. UTSA is working with NASA on a strategy to develop its next generation workforce to support the aerospace economy through a stronger STEM curriculum in local schools while attracting more females and minority groups to the field. There are many good-paying jobs in aeronautics beyond rockets.
"I'm actually not necessarily interested in rocket-related stuff for my career," said Knippa. "I want to work on either space-based or ground-based telescopes on the mechanical engineering side. But I have no intentions of dropping rocketry as a hobby.
Whichever aerospace career path the students choose, they will get ample hands-on experience and industry networking opportunities through UTSA.
The Spaceport America Cup competition will take place in New Mexico June 22–26, 2021.