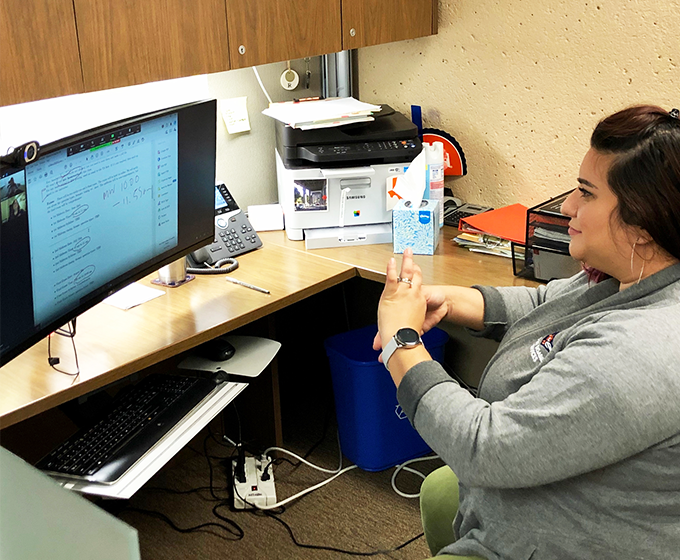 NOVEMBER 6, 2020 — When all university classes went remote in March because of the growing pandemic, students with disabilities at UTSA as well as their faculty faced a serious dilemma. Through determination and collaboration with Academic Innovation, the university's Student Disability Services team rose to the challenge and ensured all online courses were accessible and inclusive, upholding the institution's mission, vision and core values.
According to Dianne Hengst, executive director of SDS, the team had limited resources when transitioning to the work-from-home model at the start of the pandemic. Despite these challenges, members quickly adjusted and adapted to an unprecedented volume of inquiries and changes, making do with the equipment and software they had.
---
"I found it extremely stressful when classes changed to online...[but SDS] helped me take control of my education."
---
---
After creating plans to keep staff safe, the team went into action and determined which blind/low-vision and deaf/hard-of-hearing students were currently enrolled in spring classes. The team contacted each of these students' professors to create a plan for accessible learning.
The SDS team also produced an extensive FAQ page for faculty, with information on types of accommodations and how to adapt them to the modality of online teaching and learning.
The SDS experienced a 14% increase in the number of students requesting accommodations for spring and summer 2020, compared to spring and summer 2019. The team also produced a record number of accommodations notification letters for 2,459 classes in spring 2020, a 7% increase from spring 2019. For the summer team members produced accommodations notification letters for 515 classes, a 28% increase over summer 2019.
The SDS collaborated extensively with the division of Academic Innovation's Digital Learning team to create accessible online courses. They met weekly with learning experience accessibility specialists and video production specialists to work out accessibility issues and provide captions for courses. Academic Innovation was able to transition sign language interpreters online via Webex, Zoom and Blackboard, allowing them to continue working with students on assignments.
"Academic Innovation has prioritized creating a strong infrastructure for online education. These efforts include assessing new technologies for accessibility, student engagement and instructor presence," says RaLynn McGuire, learning experience accessibility specialist in the Office of Digital Learning. "Our vision is to move toward a proactive approach to accessibility and really embrace UTSA's core value of inclusion."
Through the combined efforts of Academic Innovation, the SDS team and faculty, 29 students who identified as blind/low-vision or deaf/hard-of-hearing could successfully access all their coursework virtually. None of these students dropped any of their courses.
Student Channalee Phelan was one of these students who depended on the SDS for support.
"I found it extremely stressful when classes changed to online when the pandemic struck," Phelan reflected, "[but SDS] helped me take control of my education by providing me with skilled interpreters."
Other student disabilities and social circumstances were more difficult to navigate. In particular, students with ADHD-related concentration issues, learning disorders or other mental health conditions found online learning and its subsequent lack of structure challenging.
---
EXPLORE FURTHER
⇒ Disability-related FAQ for faculty and students [PDF download]
⇒ Disability-related tip sheet for online courses [PDF download]
---
Other disabilities, like epilepsy or migraines, made it difficult for students to endure long periods of screen time. To help these students, the SDS published a tip sheet as a resource for both students and faculty. SDS disability specialists worked each day to help students incorporate these tips into their learning experience where possible and referred them to individuals on campus who could offer further support. 
"Our staff worked extremely hard to make sure all students with disabilities had access to their virtual class platform," says Hengst. "It has been difficult, but I am very proud of our team. Our philosophy has and continues to center around a team effort. It truly takes a village."