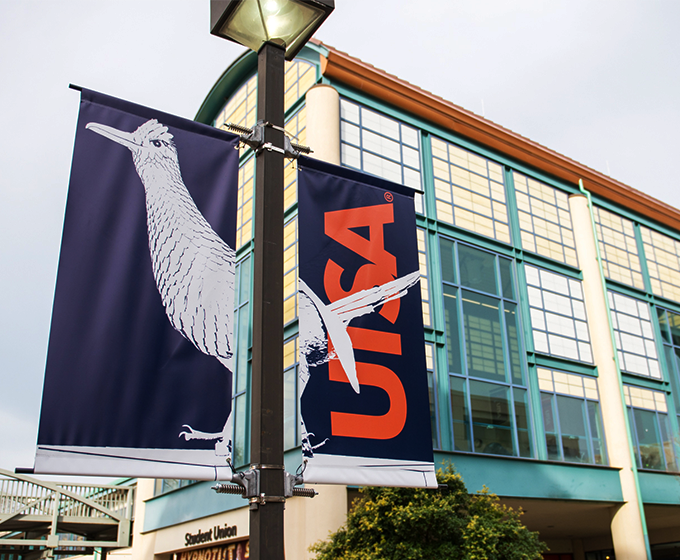 DECEMBER 18, 2020 — As an essential component of the university's student success efforts, UTSA Academic Advising supports students' holistic development by cultivating trusting and collaborative relationships to advance continued progress to degree. Each Roadrunner is assigned an academic adviser, who helps them develop meaningful, personalized pathways toward academic success—and stay on track with their intended academic plan to achieve their ultimate career goals.
This high level of support has won the group multiple awards over the past year. In particular, the Resilience and Retention Advising Program has received national attention.
Launched in 2017, UTSA's R&R Advising Program supports students who were academically dismissed or denied admission into the major of their choice and are at a high risk of dropping out of college. Through intentional, proactive interaction and advising techniques, the program has been successful in increasing retention and graduation rates for the students it serves.
---
"The success of our Academic Advising team has a real impact on UTSA's student success efforts."
---
---
Angie Barrera, associate vice provost for student success at UTSA, talks about her role as a student advocate at a Hispanic Serving Institution and her strategies to ensure students are successful.
---
---
The program's most significant improvement can be seen with students who did not successfully complete their major declaration course requirement. In 2016–2017, 31% of these students did not return to UTSA. Since the R&R Advising Program's implementation, this number has decreased by nearly a third to 20%. Overall, the retention rate of the high-risk students who go through the R&R program has increased from 39% to 65%. Latino students, who comprise six of every 10 students the R&R program has served, have improved their GPA and graduated at higher rates compared to non-Latino students in the program.
"The success of the Resilience and Retention Advising Program is in the establishment of effective advising practices and innovation in delivery of the program that directly influence student learning," said Angelica M. Barrera, associate vice provost for student success. "The program is structured around asset-based pedagogy supported by module-reinforced learning to support the goals of each individual student."
Recently, Excelencia in Education recognized the R&R Program as a 2020 Program to Watch. As one of only seven programs recognized in the Programs to Watch baccalaureate category this year, the R&R Program is quickly becoming a nationally recognized model for Latino student success. In fact, the program is one of several programs at the university that contributed to UTSA receiving the prestigious Seal of Excelencia, a comprehensive certification recognizing the university's commitment and ability to accelerate Latino student success.
Earlier this year the R&R Program also received a 2020 NACADA Outstanding Advising Program Merit Award, which is a global awards program that honors individuals and institutions making significant impact in academic advising. Academic adviser Anna Boyer-Chadwick was also recognized by NACADA and received a $1,000 NACADA scholarship.
In addition, the program received a 2019 Star Award from the Texas Higher Education Coordinating Board for its support of the Texas higher education plan 60x30TX.
Participating students sign a success agreement and commit to utilizing a minimum of two academic support resources available at the university. R&R advisers meet monthly with each student and incorporate discussions about finances along with information about career knowledge and skills that can be gained from any degree, moving from a transactional to a transformational approach.
"The success of our Academic Advising team has a real impact on UTSA's student success efforts, as we can see through improvements in enrollment, retention and graduation rates," said Tammy Wyatt, vice provost for student success.
Year over year UTSA has seen dramatic improvements to retain and graduate more students. Eighty percent of the university's first-time, full-time freshmen from fall 2019 returned to the university this fall, which is a 6% increase from 2017. In addition, UTSA's six-year graduation rate has increased from 41% to 50% between 2017 and 2020 and total degrees awarded has increased by 22% within the same time period.
"UTSA is on an excellent trajectory toward becoming a model for student success," said Kimberly Andrews Espy, provost and senior vice president for academic affairs. "I applaud our academic advisers and other academic support staff as well as our faculty for their collaborative and effective efforts to make such significant inroads in providing targeted help so our students achieve their academic and career goals."
---
EXPLORE FURTHER
---
Since March of this year UTSA Academic Advising shifted to a 100% virtual operation with great success. From spring break through August 31, 2020, UTSA academic advisers held 17,640 virtual orientation and advising appointments and made an additional 15,428 contacts with students through email, notes and audits.