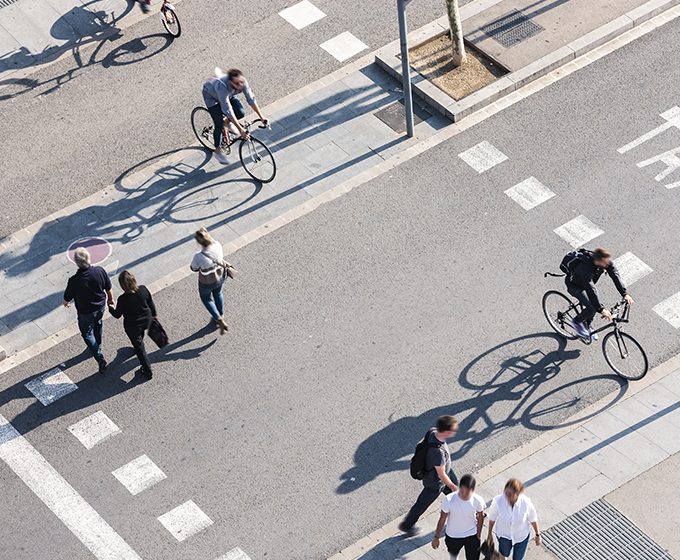 FEBRUARY 1, 2021 — The UTSA Office of Sustainability has several alternative transportation projects planned for the next few years with the help of a $407,000 Congestion Mitigation and Air Quality Improvement Program grant through the Texas Department of Transportation. 
UTSA's grant will promote modes of non-motorized transportation that reduce the use of single-occupant vehicles through increased use of buses, walking, biking, scooters, skateboards, and electric vehicles.
The project will collect baseline data on transportation preferences, provide infrastructure analysis, and develop a policy to propose for adoption. 
---
"This grant will help UTSA campuses become more walkable and bikeable and enhance the student experience."
---
---
"This grant will help UTSA campuses become more walkable and bikeable and enhance the student experience by connecting active transportation to congestion mitigation and air quality improvement on our campuses." said Lani May, director of the UTSA Office of Sustainability. "There has been a huge rise in the use of active transportation due to COVID, which makes this grant even more valuable to our students to support that movement."   
The grant is in response to Bexar County being designated nonattainment for ground-level ozone under the National Ambient Air Quality Standards, May said.
Through the grant, the Office of Sustainability will expand the existing Tito Bradshaw Bike Repair Shop with a mobile bike repair shop, which will be taken to the Downtown Campus and events around our community such as at the Westside Community Center. The mobile shop will provide tools, tubes, and repair workshops to keep students riding and will be housed in an electric vehicle that will be used to inform students about electrification innovation, May said.
The Office of Sustainability first opened the Tito Bradshaw Bike Repair Shop in 2019 to provide tubes, tools, and bicycle-centric events, to encourage bike riding on campus. It was a part of UTSA's #MakeUTSAWalkable alternative transportation initiative.
"Students bring their bikes to campus, but then they have no way to repair a flat tire or do simple repairs, so they often end up abandoning the bike because it's not rideable," May said. "Additionally, a bike shop area is a meeting space. It's a space for events and student gatherings that also promotes socialization and exercise, and gets students out of their single-occupancy vehicles and out around campus to meet people."
Over the grant's three-year term, monthly events focused on biking, walking, and electrification will be held.
"The monthly events will focus on pedestrian and bike safety on campus, bike repair seminars, bike registration, and air quality," May said. "The grant provides for an electric vehicle, so we will develop a program to talk about electrification with the students. We hope students will consider electric vehicles for themselves and advocate for electrification in our community. That in turn will result in the reduction of ground level ozone and improved air quality."
The Office of Sustainability's largest goal within the next three years is to propose a campus travel improvement plan and model the conversion of Brenan Avenue as a green street. Brenan Avenue, a legacy road from original campus construction, is located today in the center of campus. 
"Brenan is a physical dividing line between on-campus residents, and students coming from commuter lots, trying to access the campus core and it presents a certain amount of stress to campus connectivity," May explained. "Interactions between motor vehicle and pedestrians crossing over Brenan back up traffic and cause congestion, increasing ground level ozone. The master plan calls Brenan a 'significant pedestrian conflict area' and has designed Brenan to be realigned by future development and to partially become part of the Paseo Verde. For right now, we want to analyze it and see if we can propose it as a walk and bike friendly street, mostly closed to motor vehicle traffic." 
May says converting Brenan should result in improved campus walkability, and thereby improve the student experience. 
---
EXPLORE FURTHER
---
The Office of Sustainability takes pride in receiving this grant and will put it towards improving the campus, May added. "We're really proud of this grant because we were able to leverage Office of Sustainability funding into a grant that returned three times our investment," May said. "It's really important for us to be able to show that not only are we making sustainable changes on the campus but that we are able to leverage our funding to make it go further."